Skedco's compact personal bailout kit - for when you have to get out now
Technora rope, included in the kit, is usable at 390°F for long periods of time and maintains half of its strength at 482°F
---
You spend your career learning how to avoid these situations. Yet sometimes you have to get out of a building, and get out fast and by any means.
Skedco's personal bailout kit uses Technora rope, which decomposes at 480°F. It is usable at 390°F for long periods of time and maintains half of its strength at 482°F.
If there is no anchor available, insert the window anchor into the lower corner of a window at approximately a 45-degree angle. Maintain tension on the rope and anchor to prevent it from slipping out of place. Climb out the window and rappel to a safer place.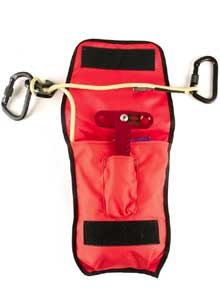 The company cautions that failure to maintain tension on the rope attached to the window anchor could allow the anchor to move out of place resulting in injury or death. It is extremely important to train with this kit prior to putting it into use in a real escape situation.
The kit is available in orange or black. It includes 65 feet of 5/16-inch Technora escape rope, a window-rappel anchor, two aluminum carabiners, a mini escape 8, and a carrying pouch. The kit is made in United States. 

About SKEDCO SKEDCO, Inc. is an industry leader in innovation, high quality design, development and production of medical and rescue products worldwide for use by civilian and military personnel who operate under the most "extreme" conditions. Please visit their website for more information.