Speed Swivel gives firefighters most precious tool: Water
Retired fire captain Mike Cornelius's product gives firefighters back their original plan for getting water on fire in situation with missing FDC
---
When you show up at a fire scene, few things are worse than realizing you can't put water on the fire because your connection's swivel has been stolen by brass thieves. As retired Phoenix fire captain Mike Cornelius says, "Firefighters are worthless without water."
And that's what Cornelius is giving them with Speed Swivel, a portable FDC adapter for fire service water connections.
After encountering a rise in swivels stolen from the exterior of buildings equipped with fire sprinkler or standpipe systems, including one fire in which his crew had to hoist a hose all the way from the ground to the top of a 15-story building, he knew authorities should forget about trying to keep fire connections intact and just invest in a problem-solving product firefighters can carry with them.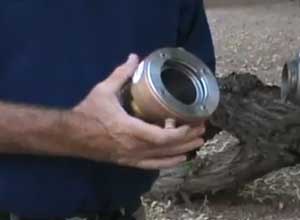 "I've found as many as six missing swivels in one building," he said.
Cornelius added that when a brass thief steals an FDC from a standpipe system, he has effectively stolen the best option for getting water to firefighters operating on upper floors.
"He has stolen the water supply," Cornelius said. "He has stolen a piece of the standpipe system. It would be like forgetting to bring a nozzle or a hydrant wrench to a fire."
Firefighters count on the direct connection swivel, but when it's missing, the alternatives are, as Cornelius said, "creative." Some firefighters stretch the hose or jerry-rig two hoses together in a Siamese connection to extend the hose. But at higher levels, they start breaking.
"Speed Swivel immediately removes the threat of a missing water supply during a fire," Cornelius said. "It gives firefighters and chief officers back their original plan for getting water on a fire in a multi-story structure with a missing FDC."
Although Speed Swivel has only been in use for about a month, years of creating and testing prototypes have resulted in "the Cadillac version" of the product, which meets NFPA Code 1963-09.
"It's fantastic the way it is," Cornelius said.
Speed Swivel costs $586.00, and quantity discounts begin with an order of 25 units.
Mike Cornelius and Dave Valente of Val-tech Manufacturing in Tempe, Arizona, developed the portable FDC adapter to be used by fire departments as an "alternate means" for connecting fire hose to buildings with vandalized FDCs. For more information, visit www.fdcadapter.com/.