PRESS RELEASE
Mobile Trauma Unit Stationed at UN
---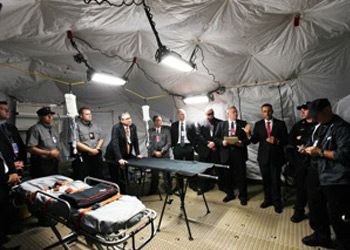 New York City
— While dignitaries from around the world convened inside for the 66th General Assembly, 
a DRASH mobile operating room
 was pre-positioned outside the United Nations Headquarters if needed.
The operating room was just one of several medical support assets deployed by the United States Secret Service and State Department's Bureau of Diplomatic Security as part of security efforts during the week-long meeting. Staffed by the Mobile Trauma Unit, which is made up of medical personnel from throughout the New York City area, the mobile operating room was set up to provide a space in which doctors could administer immediate care to federal personnel and visiting dignitaries should an incident have occurred. 
After the Mobile Trauma Unit assessed the patient, they would initiate medical interventions to stabilize the patient for transport to another location where they could receive more definitive care. "
DRASH
 gave us with the ultimate facility that has been battle-proven and can be utilized in the worst-case scenarios," said, Dr. Maurizio Miglietta, head of the Mobile Trauma Unit. "Every year, DRASH has come through and provides us with on-site technical assistance the day of the event. We cannot thank them enough for their services."