EchoBoard a rugged mobile command station computer for firefighters
Echoboard provides command staff with real time data, communications, file sharing and analytics on a rugged touch-screen
---
Odyssey Specialty Vehicles has recently released the EchoBoard, a fully-integrated multi-point touchscreen mobile desktop computer designed to replace dry erase command boards used in mobile command centers.
Echoboard provides command staff with real time data, communications, file sharing and analytics, by using a wide-screen mobile command center that displays, edits, tracks, and files digital command sheets.
Features include the ability to acquire real-time satellite maps of buildings, terrain, and other critical maps, monitor and broadcast field-operative locations using hand-held GPS devices, retrieve, send, and display files to and from operational headquarters, retrieve real-time Doppler radar, weather reports and plume directional forecasting, and more.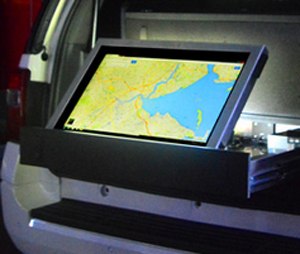 Echoboard uses CoBRA First responder Software among other communications platforms for active shooter and other high-threat incident management, and has the ability to host in-the-field video conferences.
For more information, visit Odysseysv.com.