PRESS RELEASE
New Tracer TF120 for fixed mount mobile data communications
---
Runs cooler, faster and brighter + standard 5 year warranty
Datalux launches the 6th generation of its pioneering Tracer fixed mount PC for mobile data computing. The all-in-one Tracer TF120 combines a 12.1" sunlight readable display with a high performance computer into a compact, rugged package. Built with the same durable all-metal housing and engineered with the same features for public safety professional as legacy Tracer units, the new Tracer TF120 runs cooler, faster, and brighter.
Many public safety agencies install removable computers, such as laptops, in their vehicles only to find that the devices never get used outside of the vehicle. Other departments, furthermore, want the assurance of knowing that the computer will be in the vehicle when it is time for an officer to go on duty. Fixed mount computers, such as the Datalux Tracer, are a good choice for mobile data computing for these and other reasons, including: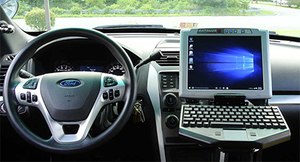 • They can be configured with a large number of I/O ports
• They offer the highest reliability with cable connections – no reliance on a complicated dock mechanism.
• They have the best compatibility with airbags of any type of mobile computer – no bulky docks or protruding attached keyboards.
The new Tracer TF120 supports up to 16GB of DRAM and is powered by the latest low power Intel Core i5 processor (or upgrade to the Intel Corei7) so it can run Windows 10 Professional and video intensive applications with ease. It features a new sunlight readable 12.1" display that provides more brightness with less power consumption and less heat. The unit comes standard with a 120GB Solid State Drive to provide the highest degree of reliability. Six USB ports, including two USB 3.0 Superspeed ports as well as dual GbE LAN enable fast connections to a variety of peripheral equipment, such as mobile routers, in-vehicle cameras, and ALPR systems.
Datalux designed the Tracer from the ground up to operate as part of an integrated system of mount, computer, keyboard and power source. This complete solution approach ensures that all parts of the system work together seamlessly and that users interact with the mobile computing system in a safe and efficient manner. Datalux provides all of the components that complement the Tracer TF120, including a removable keyboard, a vehicle UPS (if required) and peripherals such as barcode and smart card readers. The compactness of the all-in-one Tracer and Datalux's vehicle mounts combine to create flexible and ergonomic mobile computing systems that can work in both larger utility vehicles and today's smaller cruisers.
After 20 years of proven performance in the public safety market, Datalux is able to offer the new TF120 Tracer with a standard 5-year warranty. This is the longest standard warranty in public safety. The warranty can, of course, be extended to a longer time period or upgraded to include coverage for accidental damage or spare-in-the-air turnarounds
For public safety agencies needing additional functionality from their mobile data terminal, Datalux offers several add-on peripheral accessories that can attach directly to the Tracer TF120. These include RFID and fingerprint readers for 2FA compliance with the CJIS Security Policy and a barcode scanner for reading driver's licenses.
Contact Datalux to schedule a free 60-day evaluation of the new Tracer TF120 http://www.datalux.com/public-safety/tracer-tf120
About Datalux
Datalux Corporation designs, manufactures and markets specialized computer products for demanding environments. Datalux products are well-suited for installation in locations that require unique, durable products and have limited space available. Product offerings from Datalux range from individual components such as keyboards, monitors and computers to complete systems.

Request more info from Datalux
Thank You!