New GD400 Rugged Handheld Computer Narrows Divide between Smartphones and Full-sized Computers
Improving worker productivity, the eight-ounce GD400 handheld enables mobile professionals to scan bar codes, receive work assignments, check email, communicate with the office and send pictures, videos and text messages, easily and efficiently.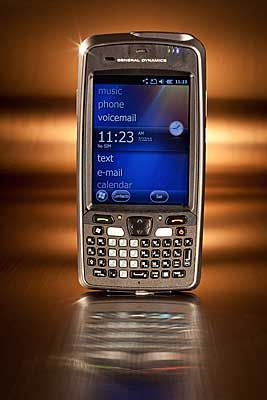 SUNRISE, Fla. – General Dynamics Itronix introduces the GD400 rugged handheld computer, designed for mobile professionals whose jobs range from ensuring the public's safety and working inside warehouses to maintaining utilities. Weighing less than eight ounces, the sleek GD400 handheld is equipped with ultra-sensitive GPS, a barcode scanner/imager, a high-resolution camera with flash and a daylight-viewable, water resistant touch-screen screen display.
"Using the GD400, utilities, law enforcement or any mobile enterprise can immediately improve business operations, increase worker productivity and reduce costs," said Mark Johnston, director of Strategic Computing Solutions of General Dynamics Itronix. "By combining robust computing with cell phone-like functionality, the GD400 bridges the communications and computing gap between notebook computers and commercial cell phones."
The GD400 hosts the Windows® Embedded Handheld 6.5 operating system that integrates quickly and easily with enterprise operations and IT networks. General Dynamics Itronix also offers service and support to ensure a smooth transition of the GD400 into business operations. The GD400 is IP54 certified against dust and water intrusion and built to withstand multiple drops onto concrete. It is powered by a high-performance ARM Cortex™-A8 processor that comes with NEON™ multimedia technology, accelerating the transmission of multimedia and large data files across WiFi and wireless wide area networks.
Key features of the GD400 include:
-Ergonomic design for simple one-hand operation
-Eight-hour battery life
-3.7 inch color, touch-screen display
-3.2 mega-pixel auto-focus camera with flash
-Digital compass
-Bluetooth®, 802.11 a/b/g/n, cellular network connectivity
Available with a number of accessories, the General Dynamics Itronix GD400 list price starts at $1829.
For a complete list of features, benefits and specifications, please visit www.gd-itronix.com/GD400. To speak to a sales representative or to order a GD400, call 1-800-441-1309.
General Dynamics Itronix is a leading developer of wireless, rugged computing solutions for mobile workers, offering a full range of field computing systems including full-sized laptops, ultra-mobile notebook PCs and tablet PCs. Additional information is available at www.gd-itronix.com.
General Dynamics Itronix is part of General Dynamics C4 Systems, a business unit of General Dynamics (NYSE: GD). Information about General Dynamics is available online at www.generaldynamics.com.