Driver Safety Training: Improve response, lower risks (eBook)
Research shows without continued training and reinforcement, drivers drift back into bad habits without effective management
---
By FireRescue1 Staff
Each year, more than 4,500 collisions involving ambulances and 30,000 involving fire apparatus have the potential to injure firefighters, EMS providers, their patients and members of the community.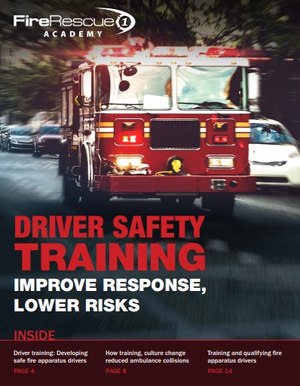 From learning their response district, common routes and how to perform a 360-degree walkaround of the vehicle, to using lights and sirens to request (not demand) the right of way, new drivers have a lot to learn. And research shows without continued training and reinforcement, drivers drift back into bad habits without effective management.
Fire and EMS agencies that instill safe driving practices through training and technology in their organizational culture limit the potential for tragic accidents and keep their emergency apparatus – and their personnel – in service, responding to the community's needs.
In this free eBook, brought to you by FireRescue1 Academy, you will learn:
How to document and evaluate driver training while qualifying fire apparatus drivers
How one public safety agency instituted cameras and encouraged buy in with a cultural shift
The art and the science of teaching driver safety at every step of the response, before even leaving the fire station bay
Fill out the form below to download the eBook.