Q&A: How mobile training benefits fire, EMS departments
Sacramento Metro Fire Capt. Matt Cole, who helped create EVALS, the leader in tracking skills development and field training, breaks down why mobile training benefits responders
---
We're happy to share that FireRescue1 and our parent company, Praetorian Digital,
have acquired EVALS
, the leader in tracking skills development and field training in fire departments and EMS organizations nationwide. EVALS will be offered alongside the
FireRescue1 Academy
to create the first learning platform to mobilize skills tracking.
For training officers and those responsible for training at their department, the news is significant given the challenge of managing and tracking training. Instructors can set clear expectations, streamline training workflows, deliver online courses, manage credentials, and track and document field training - all in
one place
.
If you're interested in learning more or receiving a demo of the new combined solution,
contact us
.
By FireRescue1 Staff
In 2013, Sacramento Metro Fire Captain Matt Cole paired up with a longtime family friend and software developer, Jake Toolson, to help develop a smarter training tool for the fire service.
Cole and Toolson started with the idea that there was a better way to administer training in a more transparent and consistent fashion. Moreover, Cole wanted to address the workflow and tracking process he experienced day-to-day delivering skills-based training at his department.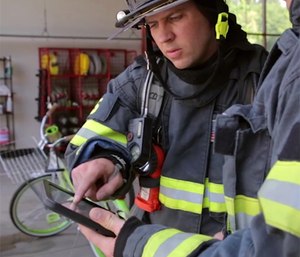 What was later created – EVALS – is now helping hundreds of fire, EMS and police departments nationwide. EVALS, the leader in tracking skills development and field training, was created through a grassroots effort. Many of the leading fire instructors in California collaborated and provided input, and an in-depth assessment and application of the latest concepts in software as a service and mobile technology were evaluated.
We sat down with Cole to find out how mobile training benefits responders, garner tips for trainers and leaders looking to incorporate mobile training, and more.
FireRescue1: How can trainers and leaders simplify in-person skills training?  
Cole: By using tools that allow you to take performance examples and expectations into the field, which can be easily referenced on demand, instructors can ensure that every repetition is done consistent with best practices. Mobile technology now allows for access to this type of information, ensuring we make the most out of our field training time.
How does mobile training reach new learners?  
Mobile training allows for study on demand. Police and firefighters are a true mobile workforce and need access to training tools in between calls and during downtime. There is not always an opportunity to get back to the station for study time. Mobile technology allows us take advantage of some of our small windows for training. Additionally, we all learn differently now that we have access to a wealth of information within the minicomputers we all carry and call phones. Delivering training opportunities on these devices allows us to capitalize on the benefits of the medium most expect to be able to use. 
What recommendations do you have in order to improve off-the-shelf tools?  
If a group is not using a complete learning solution, we still recommend taking advantage of off-the-shelf tools. Sharing documents, delivering clear expectations, assigning pre-course work, videoing performance for reflection and providing feedback can all be accomplished by using tools like Google Drive, device cameras, iBooks, standard LMS systems, form solutions and many other tools. The challenges are that all of these tools are siloed and cannot leverage the data or benefits from one another.
How do public safety challenges in learning align with overall learning challenges?  
As our society becomes saturated with information Siri or Google can provide us at any moment, our expectations of how we collect information have changed. New learners want clear expectations upfront and all of the information that they need to be successful at their fingertips. If we do not provide clear expectations, a learner will search out information on the web and will perform based on their research, which may not meet any organization's expectations.
What tips would you give trainers and leaders looking to incorporate mobile training?  
Be creative. Understand that an investment in training is investment in not just your people, but in the future and the identity of your organization. We need to take advantage of technology tools as many other industries have done. We may need to do things differently then we have done in the past, but if we have to say "how many times do I have to tell you" to a student, then maybe our messaging needs to change. Mobile technology can help us bridge the experience and skill gaps that exist in our organizations.