Do you 'own' your PPE?
Firefighters must take ownership of their PPE, from record-keeping to cleaning and care
---
Much is being written about and talked about when it comes to the structural firefighting protective ensemble, aka firefighting PPE, particularly regarding what it's supposed to do, how well it does those things, and how can it be improved to provide the highest level of both protection and comfort for firefighters.
Something that doesn't get as much attention is what every firefighter needs to know about taking proper care of their PPE, from the day they receive it until the day they turn it back in. And that's what I'm going to cover in this piece – what you need to know to really take ownership of your PPE.
Key PPE NFPA standards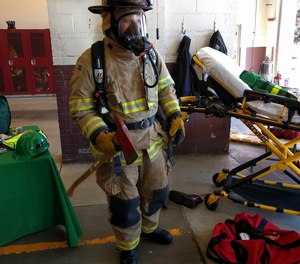 First things first, there are two key NFPA standards related to PPE:
As the name implies, NFPA 1851 provides fire departments with the minimum standards for their use in the selection, care and maintenance of structural and proximity firefighting protective ensembles. (Note: NFPA 1851 does not apply to other protective ensembles or clothing that must be compliant with other NFPA standards, such as technical rescue, wildland, vapor-protective ensembles for hazmat operations.)
The overall purpose of NFPA 1851 is to ensure that the PPE being used is properly inspected, cleaned and maintained.
The authority having jurisdiction (AHJ) always has the final say in determining how the organization maintains its gear and equipment; the AHJ can exceed the requirements of NFPA 1851, but in order to be compliant with 1851, it must meet the minimum requirements.
The individual protective ensemble elements include coat, pant, helmet, gloves, footwear and protective hood that are compliant with NFPA 1971. NFPA 1971 provides the manufacturers of those ensemble elements with the design, construction and performance requirements that must be adhered to for those protective elements to be labeled as being compliant with NFPA 1971.
PPE program creation
NFPA 1851, Chapter 4, requires a fire department to develop a program for the selection, care and maintenance of its firefighting PPE. The program and its components are designed to assist fire departments in getting the best return on its investment by getting the most out of the lifecycle of each protective ensemble element (See Table 1 below).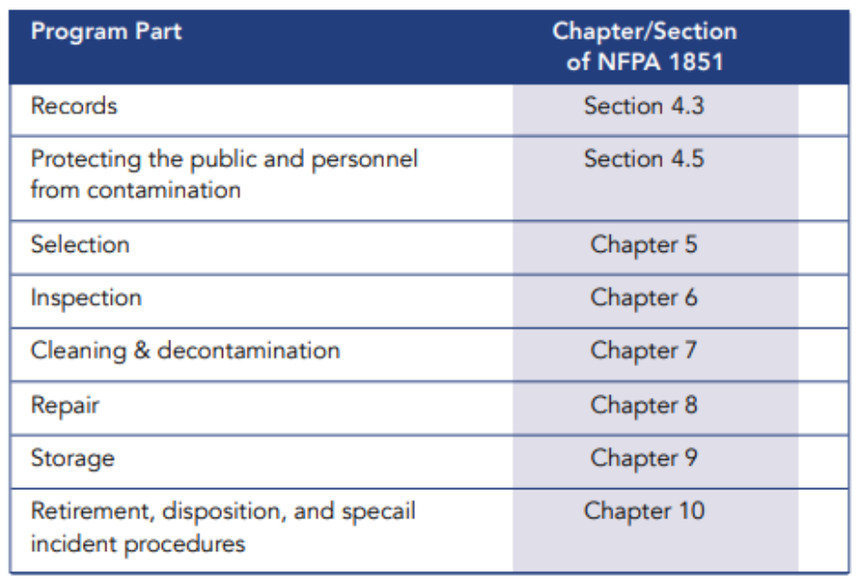 There is no verification or certification available that proves an organization is compliant with NFPA 1851 but being able to show these elements as part of an overall program can assist an organization in following the standard's requirements. And it helps reduce a department's risk of having PPE in service that's no longer compliant with the standard.
PPE-related record-keeping
NFPA 1851 requires keeping records for each protective ensemble or ensemble element. This is an important part of the "taking ownership of your PPE" concept.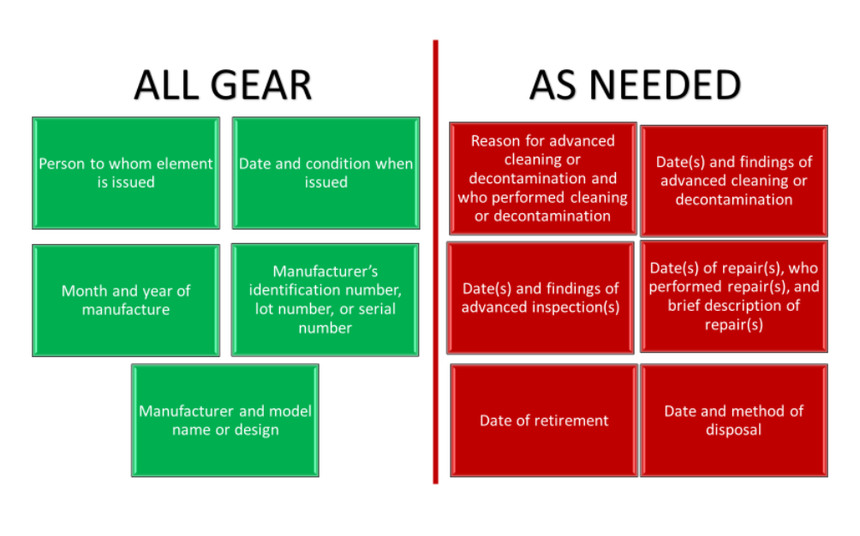 The blocks in red boxes indicate the required record-keeping for repairs and the ultimate retirement of a PPE element.
Does your department have a process for getting this done? If so, do you have all the required information for all your PPE elements recorded?
If not, it's time to take responsibility for recording this information about your PPE. You can start by simply documenting this in a notebook or on a computer. And then do what you can to help your department to develop a process for everyone to use.
Responsibility for garment element inspection, cleaning and repair
You might be wondering who's responsible for the inspection, cleaning and repair of PPE.
Inspection: For routine inspection of your PPE, you are the responsible party under the standard for routine inspection (Chapter 6.2) and routine cleaning (Chapter 7.2).
Inspect your turnout gear, using the following criteria, before every tour of duty and following all calls for service where you and your gear went to work:
Soiling;
Contamination (e.g., petroleum products, blood or body fluids, hydraulic fluid);
Physical damage (e.g., rips, tears, and cuts), damaged or missing hardware and closure systems (e.g., Velcro fasteners), and thermal damage (charring, burn holes, melting, discoloration of any layer);
Damaged or missing reflective trim;
Loss of seam integrity and broken or missing stitches; and
Correct assembly and size compatibility of shell, liner and [for coats] the drag rescue device (DRD).
This is a basic list that applies to most ensemble elements and can be used daily. Appendix A of the standard contains a comprehensive chart listing the specific routine inspection points for all your PPE elements (See Table 2 below for a sample).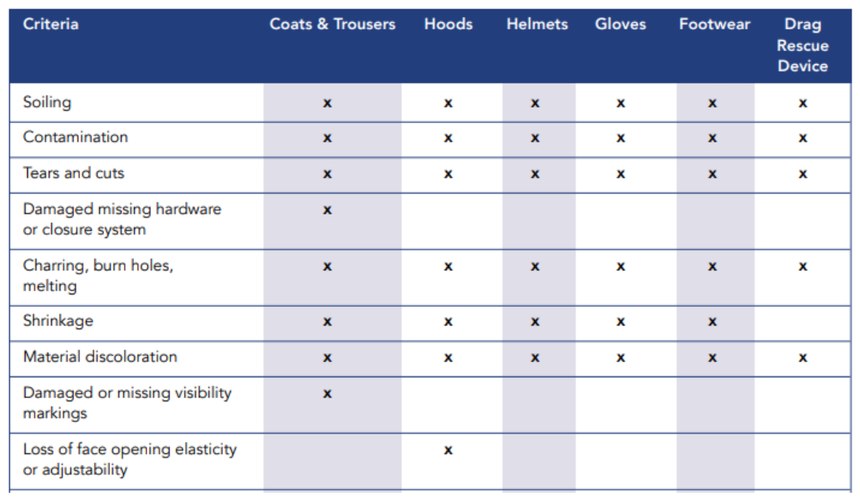 PPE routine cleaning: Hopefully, the upcoming 2020 edition of NFPA will address routine cleaning in its new context (on-scene cleaning or on-scene decontamination). Since most fire departments are conducting gross decontamination of personnel when they exit the hazard area of a fire, this meets the level of routine cleaning as specified in the 2014 edition of NFPA 1851.
Before you start handling any gear requiring cleaning, always wear disposable gloves (e.g., latex or nitrile) and eye protection to prevent accidental contact with debris or contaminants.
PPE advanced repairs and cleaning: For advanced inspection and repair services (Chapter 6.3) and advanced cleaning and decontamination (Chapter 7.3) of ensembles and ensemble elements, NFPA 1851 specifies that a fire department must employ one of the following options to conduct the applicable tasks:
Manufacturer-trained personnel: The standard allows for a department to be trained by one manufacturer but can work on any like element, even if produced by a different manufacturer;
Verified organization: A fire department verified by a third-party certification organization to conduct any one or a combination of advanced cleaning, advanced inspection, basic repair, and advanced repair on any organization's elements (Not just their own); or
Verified independent service provider (ISP): An ISP verified by a third-party certification organization to conduct any one or a combination of advanced inspection, advanced cleaning, basic repair, or advanced repair service for any fire department and its PPE elements.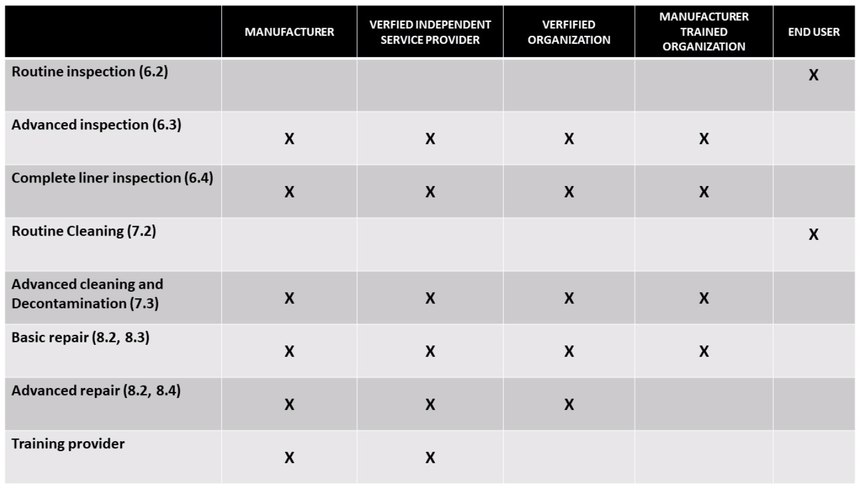 Time to take ownership
So, do you "own" your PPE? For more information to help you become a more informed and educated PPE owner, check out Turnout Gear Care & Cleaning from the folks at Globe MSA Safety.
The views of the author do not necessarily reflect those of the sponsor.