Non-structural firefighter PPE
From EMS calls to wildland firefighting, today's firefighters face more than just structural interior firefighting
---
"One size does not fit all" is one of the more ubiquitous phrases in today's lexicon, and, one of the most obvious, right? So, why should one set of personal protective equipment be the "best fit" for all emergencies that firefighters respond to?
NFPA 1971: Standard on Protective Ensembles for Structural Fire Fighting and Proximity Fire Fighting, is the standard on protective ensembles for structural firefighting and proximity firefighting, not the standard on the protective ensemble for all firefighter responses.
The protective ensemble that we commonly refer to as turnout gear is specifically designed to protect the wearer from the mechanical and thermal hazards of structural and interior structural firefighting.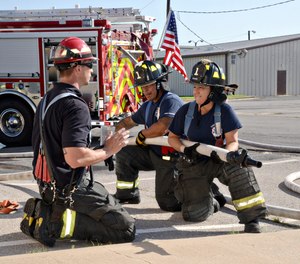 Call variety dictates differing PPE requirements
Today's firefighters respond to a variety of emergencies. Only a small percentage of the calls they respond to require interior structural firefighting. So, shouldn't firefighters have more than one PPE option? Here are two examples where structural firefighting PPE may not be required:
Fire-based EMS calls. Looking at the most prevalent call type for most fire departments today – EMS calls – how many firefighters are entering a patient's home or their place of business while wearing their structural PPE, even if it's only the bunker pants and boots? Yet, our developing body of knowledge for firefighting exposure and cancer has led to a new best practice of keeping all structural firefighting PPE elements out of all living areas of the fire station, including the dormitory areas. Don't our citizens deserve similar protection?
 
Wildland firefighting. Many fire departments are now finding their personnel engaging in wildland firefighting, particularly in the wildland urban interface as residential development continues to encroach on those areas. Some elements of the structural firefighting ensemble could create an undue risk of heat related injuries for firefighters in the WUI, not to mention the extra weight of that gear that takes a toll on a firefighter working to construct a fire line.
That structural PPE package is designed primarily to keep the hostile heat out while dissipating some of the internal heat being generated by the firefighter wearing it. Today's structural PPE does an excellent job for the former but only a fair job for the latter. Firefighter heat stress caused by that internal heat buildup is a real hazard, especially when the ambient outdoor temperature and humidity levels are high.
Firefighter PPE options to consider
Fire departments should consider providing PPE options for their personnel that provide a better balance between protection and comfort when they respond to non-structural firefighting calls for service. One option would be a layered approach combining flame-resistant and cut-resistant clothing to provide a firefighter with protection from possible flame contact along with cut and abrasion protection.
Station uniforms constructed with flame-resistant fabrics have made great strides in recent years in wearability, durability and appearance. The most commonly used fabrics are Nomex IIIA and modacrylic blends.
A second layer of protection can be achieved using coveralls, jumpsuits or a jacket and pants combination, like those used by wildland firefighters. When properly sized for the individual firefighter, either option could easily be donned over the station uniform to provide external protection during non-structural firefighting operations.
A firefighter could be outfitted with coveralls or a jacket and pants ensemble relatively inexpensively, giving them a second PPE option. That option would be more cost-effective for their department and would provide them with the protection they need, while reducing the potential for heat stress and giving them greater comfort and wearability.