PPE assessment: Size-up your call types to determine your gear needs
Tips for departments seeking alternatives to traditional gear
---
In a recent article, "The next cultural shift: When to wear structural gear," we discussed the need for fire departments to provide their personnel with PPE alternatives for situations where it's not practical for firefighters to wear their structural firefighting ensemble for emergency responses other than structure fires.
So, how should fire departments approach such a paradigm shift in their operations? Just like they do for any fire emergency they roll up on: Conduct a thorough size-up of the situation.
Here, I'll offer some guidance on what that size-up should entail.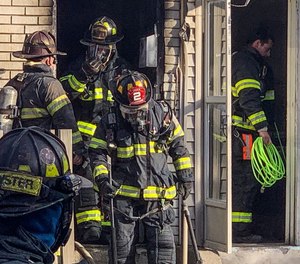 The PPE assessment process: Reviewing history
NFPA 1851: Standard on Selection, Care, and Maintenance of Protective Ensembles for Structural Fire Fighting specifies that a fire department conduct a risk assessment before selecting PPE for its members.
In "How to conduct a firefighter PPE risk assessment," we discussed how a fire department would go about conducting such a risk assessment using the criteria list in NFPA 1851 Chapter 5 (Selection), along with the explanatory material contained in Annex A.
A point of emphasis in the annex is that a fire department's leaders should develop and complete a good risk assessment prior to selecting PPE for purchase (and not just structural firefighting gear, though that is a large part of the standard).
A big part of the process is looking back at your department's emergency response history. Go back two or three years and review the data to see what types of calls for which your personnel need PPE. For example, let's say your data shows the following emergency responses breakdown for your fire department over a three-year period:
EMS: 64%
Motor vehicle crashes (MVCs): 14%
Non-structure fires (e.g., woods, grass): 15%
Vehicle fires: 5%
Structure fires: 2%
The data shows that 93% of your fire department's responses may not require a full PPE ensemble.
Identify the hazards associated with each of those call types. For those call types that make up your 93%, what are the primary hazards from which your people need protection? Head and face protection for sure, along other physical hazards, such as cuts and scrapes and abrasions. And you don't want to forget protection from flashes or flames. Bottom line: Identify the PPE options that counter the identified risks.
One example: Helmet needs
Let's use helmet options as an example.
With EMS and MVCs accounting for 78% of your department's workload, your firefighters, especially those working from ambulances, need a helmet that's designed for the work they do, and it should meet the Federal Motor Vehicle Safety Standard 218 (FMVSS 218), commonly known as the DOT helmet standard. Why?
According to information contained in a National Highway Traffic Safety Administration (NHTSA) report from 1992-2011, there were an estimated 6,500 MVCs every year that involved ambulances. In 35% of those crashes, at least one occupant of a vehicle involved was injured or killed. In an average year, 29 die in an MVC involving an ambulance; 2,600 people are injured in 1,500 ambulance MVCs in an average year. EMS personnel are at a higher risk of crashing when compared to other first responders.
Whether you're driving the ambulance or providing patient care in the back, you need to wear a helmet. Driving to and from a call, you need to wear a helmet. Working an MVC on a road or highway, you need to be wearing a helmet.
When the 2008 edition of NFPA 1901: Standard on Automotive Fire Apparatus was published, it contained for the first time this specification, "Fire helmets shall not be worn by persons riding in enclosed driving and crew areas. Fire helmets are not designed for crash protection and they will interfere with the protection provided by head rests."
NFPA took that stance because in a collision, firefighter-style helmets can cause more injuries than they prevent. The size and weight of those helmets – along with features like overhanging brims, oversized visors and hard mounted lights – all work to defeat vehicle safety measures, like the headrest.
Protective helmet options
Let's look at helmets that could be worn by firefighters when responding to a call, working at the emergency scene, and when returning to quarters. The helmet needs to provide head protection for vehicle extrication operations, EMS calls and non-structure fire calls.
Keep in mind that this is essentially changing the PPE paradigm, so you're likely not going to find a helmet that's designed and marketed as specifically as THE option. Instead, you currently must look at existing helmets that can counter the physical hazards you've identified for those 93-percenters.
How about helmets that are designed and constructed and certified to protect the wearer during confined space work, high-angle rope rescue and vehicle extrication? Helmets that are intended to protect the wearer from top, front, side and rear impacts, while still allowing a high degree of freedom of movement. Would such a helmet be THE option?
Let's start with the "if money is no option" helmet. The B2 EMT1 Paramedic Helmet is the only helmet specifically designed for EMS providers that's compliant with the DOT helmet standard. It is lightweight and compact, has an advanced energy management protection, and provides protection against impacts and shell penetration. The helmet also features a chin strap system with a padded quick-release buckle that provides complete access to the caregiver's ears for stethoscope and communications. And it provides eye protection with a double-curved polycarbonate visor that accommodates eyeglasses and has a nose cutout that can accommodate respirators.
For those fire departments or individuals with more modest budgets (under $200 per helmet), here are some options:
The White V-Gard H1 Safety Helmet is designed to protect the wearer who's engaged in tower-climbing, forestry work, rescue, and confined spaces work, and is available in both vented and non-vented models.
The Advent EMS/SAR Helmet, Model A1, is a cap-style helmet that provides the required head protection for rescue and EMS operations, and has been designed for tasks such as confined space access, high-angle rope rescue and vehicle extrication.
The Pacific R5SL Rescue Helmet effectively protects the wearer's head during light-duty USAR, wildland firefighting and rope rescues. The helmet's Kevlar/fiberglass reinforced composite shell withstands temperatures up to 500 degrees F without distorting and resists harmful UV rays. The helmet is also equipped with built-in ESS goggle mounts and earmuff mounting clips, which allow you to easily customize the helmet to provide enhanced eye and ear protection.
The R5 Rope Rescue/Extrication Helmet from Pacific Helmets' R5 Series of multi-purpose helmets is designed for rescue, brush/wildland fire and rope rescue. The Kevlar reinforced outer shell provides strength and durability.
The Super Plasma Helmet from Kask is lightweight and compact and designed for rescue and work-at-height applications. The helmet has 10 air intakes and is equipped with protective aluminum anti-intrusion grills to deflect debris and water. It is designed to integrate with the CMS Rescue Sunbrero and the optional Super Plasma Visors that are available in three lens styles for added eye and face protection.
Proactively address PPE needs
The PPE paradigm is changing, and that change is being driven by changes to the care and maintenance of structural PPE, the all-but-certain budget reductions in the aftermath of the COVID-19 pandemic, and the decades-in-the-making shift in workload that most fire departments have experienced. Fire service leaders must become more proactive in addressing the PPE needs of their fire departments, particularly addressing the need for PPE alternatives to the routine use of structural firefighting PPE on all call types.

Request product info from top Personal Protective Equipment - PPE companies
Thank You!