PRESS RELEASE
Fire-Dex receives 2019 Weatherhead 100 Award for exponential growth
---
MEDINA, Ohio – Fire-Dex announced today its recognition as one of the top 100 fastest growing companies in Northeast Ohio with the 2019 Weatherhead 100 award.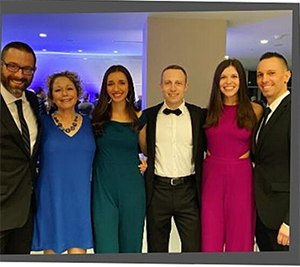 The Weatherhead 100 awards recognize companies based on their percentage of revenue growth over the past five years, celebrating those who set the best example of leadership, growth, and success in Northeast Ohio.
"Over the last five years, we have acquired three businesses, doubled our headquarter space in Medina, Ohio, and created new opportunities for elite associates to join our team," said Steve Allison, President of Fire-Dex, a family-owned, global manufacturer of personal protective equipment (PPE) for firefighters and first responders.
"While we are consistently growing year over year, we still pride ourselves on maintaining the same values that make Fire-Dex the small family-owned business it has always been," commented Allison.
Yesterday, Fire-Dex celebrated this achievement during the prestigious annual Weatherhead 100 awards banquet at Hilton Downtown Cleveland. Jamie Marks, HR Manager, Jenny Surovey, Marketing Manager, and Ashton Hall, Marketing Coordinator accepted the award on their behalf.
Weatherhead 100 awards were established in 1988 by the Weatherhead School of Management at Case Western Reserve University to recognize the elite companies headquartered in Northeast Ohio.
Fire-Dex continues to seek qualified candidates for various roles and locations. Current job openings can be found at www.firedex.com/employment.
About Fire-Dex
Fire-Dex is a family-owned, global manufacturer of personal protective equipment (PPE) for firefighters and first responders. With a strong emphasis on health and safety and a mission "to serve those who serve", Fire-Dex has paved the path of innovation with their head-to-toe product offering, including turnout gear, rescue and wildland PPE, boots, hoods, gloves, and helmets.  Maintaining the very core values on which it was founded in 1983, Fire-Dex has extended its ability to serve and support the fire community with the acquisition of three major brands; Chieftain, TECGEN, and most recently, Gear Wash, adding PPE clean and repair services to their portfolio. The company is headquartered in Medina, Ohio with a second production facility in Georgia. To learn more, visit www.firedex.com.

Request more info from Fire-Dex, Inc.
Thank You!