Gary Wilkins joins Super Vac and Command Light as the brands' new southeast sales manager
---
FORT COLLINS, Colo. – Gary Wilkins joins Super Vac and Command Light as the brands' new Northeast Sales Manager. He brings more than three years of experience in the fire equipment industry, representing brands like Amkus, FireDex Gear and Honeywell SCBA, as part of C.W. Williams. Wilkins now represents Super Vac's expansive lineup of ventilation equipment, as well as Command Light's array of scene lighting products.
Wilkins also brings 11 years of fire service in North Carolina, where he resides. Wilkins is experienced in auto extrication, engine operations and heavy rescue, as well as specialized operations, like RIT team, hazardous material mitigation and wildland search and rescue. During his time volunteering with the Northeast Stokes Vol. Fire & Rescue, he held various positions and currently is the Assistant Rescue Chief.
"We were drawn to Gary's forward-thinking approach, mixed with his understanding and appreciation of tradition," says Roger Weinmeister, President of Super Vac and Command Light. "Overall, we've never had a candidate come to the interview as prepared as Gary. Not only was it commendable, but that kind of preparation is going to make him a valuable asset to any dealer or department in the southeast."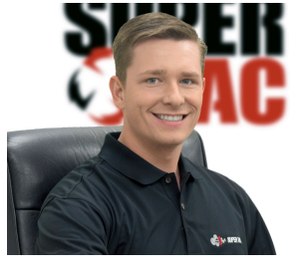 Wilkins says it's an exciting time to join these two brands. "With Super Vac's new DeWalt- and Milwaukee-battery powered fans, there's so much buzz just around the Super Vac brand, and Command Light is pushing a light tower giveaway tied to product demos. Not only is the giveaway going to be great for some lucky department, but it means I have a great reason to visit customers, which is really important to me. I really value face-to-face interaction, so I can't wait to get started."
Wilkins can be reached via email at garyw@supervac.com or garyw@commandlight.com, or via cell phone at 970-217-7158.
To meet Super Vac and Command Lights full sales team, visit supervac.com/sales-support or  commandlight.com/sales-support. For more information on Super Vac's new battery fan, visit supervac.com/battery-powered-ppv, and for details on the light tower giveaway, check out commandlight.com/light-tower-giveaway.
About Super Vac
Super Vac is the world's leading manufacturer in the emergency ventilation products. A onestop shop for all things ventilation, Super Vac equips crews with a versatile array of only the toughest solutions, including the industry's largest lineup of PPV fans, spanning from 8- to 80- inch blades, as well as smoke ejectors, available in 12-, 16-, 20- and 24-inch blades. Super Vac also manufactures rescue saws, rehab misters and other necessities, including the patented Smoke BlockAid for smoke mitigation.
About Command Light
Command Light, located in Fort Collins, Colo., has specialized in scene lighting for the emergency industry for more than 25 years and features only the best light towers, compact scene lighting, traffic flow boards and other safety lighting products. Command Light's towers are available in a variety of configurations, including AC or DC, different tower bases, varying output choices and a long list of options, like backlighting to illuminate both sides of the scene.
 

Request more info from Super Vac
Thank You!