Hale Enhances SafeBuy™ System with Top Brand Customizable Displays
---
CONSHOHOCKEN, Pa. — Hale has upgraded its SafeBuy™ suppression agent delivery system with the most advanced, rugged and effective displays available on the market. The Class 1 UltraView line of displays is viewable in direct sunlight and fully customizable.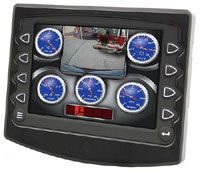 The UltraView CAN-based displays feature a fully modular design that allows users to customize more than 100 parameters for electronic engine monitoring and diagnostics. Users can program the I/O (input/output) parameters and add custom graphics and company branding to the display screens.
Hale selected the Ultraview display for its SafeBuy system following a year-long tour of the country's 10 largest fire departments to gather feedback. SafeBuy is a pre-engineered system of critical fire suppression components designed to work together to ensure an uninterrupted flow of suppression agent.
"The SafeBuy system was designed so that firefighters can have full confidence in the performance of their equipment," said Bruce Lear, Hale's vice president of sales and marketing. "The Class1 UltraView displays give firefighters even more confidence because they get an instant view of all engine parameters that are critical to their specific application. There is nothing a firefighter could need to monitor or display that the UltraView product line can't handle."
The UltraView product line includes the following features:
Variety of different display sizes and mounting configurations;
Bonded LCD screen, viewable in direct sunlight;
Rugged/reliable design;
Easy-to-use configuration software;
Ability to customize logos, instrument layout and graphics;
Video integration;
Translation to multiple languages; and
Easily send updates through a standard USB interface.
To schedule an interview with a Hale representative at FDIC to learn more about the UltraView displays, contact Debra Yemenijian at (610) 269-2100, ext. 224, or debray@schubert.com.
About Class 1
Class 1 is the market leader in developing innovative technology applications for emergency vehicles. Founded in 1991, the company has state-of-the-art production facilities in Ocala Florida. For more information, visit www.class1.com
About Hale
Hale, based in Conshohocken, Pa., is a fire and rescue equipment company founded in 1914 by three Pennsylvania firefighters who believed they could build a better fire pump. Today, the company has grown through new product innovation and strategic acquisitions to supply pump modules, compressed air foam systems, electronic controls and valves. For more information, visit www.haleproducts.com.