Oshkosh Purchases Snozzle High-Reach Extendable Turret Product Line
---
Customers of Oshkosh Airport Products and Pierce to benefit from industry leading technology.
use if there is a picture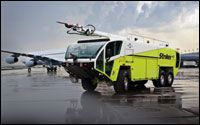 end picture
Oshkosh, Wis – The Oshkosh Fire & Emergency segment of the Oshkosh Corporation (NYSE: OSK) announced the purchase of the SNOZZLE product line and all related intellectual property from Crash Rescue Equipment Services, Inc. of Dallas, Tex. Production will be relocated to the Oshkosh Fire & Emergency Campus in Wis. and phased in over the next 6-12 months.
"This acquisition gives Oshkosh Airport Products and Pierce customers exclusivity to the SNOZZLE high-reach extendable turret and, with it, the best-in-class service and support they've come to expect through our combined network of factory direct resources and excellent dealers," said Jim Johnson, Oshkosh Corporation executive vice president and president, Fire & Emergency. "The SNOZZLE redefines firefighting performance and agent application in emergency situations, and we're proud to feature this innovative fire suppression technology in our industry leading portfolio of products."
The SNOZZLE apparatus is available with a piercing nozzle that can strategically enter an aircraft's passenger cabin, cargo compartment or other structure for direct application of firefighting agents. The lightweight, highly flexible extendable turret is able to operate as an elevated water tower through a doorway or over a wing exit without endangering firefighters. The product's patented ability to shoot a full master stream at ground level allows for quick and effective cooling of burning aircraft tires and hot brakes. In addition, the SNOZZLE will reach down, at or below grade, where it can successfully employ the "seat of the fire" method of attacking a fuel spill fire.
Available in either 50 or 65-foot boom lengths – and single or dual nozzle configurations – the SNOZZLE is available with a tip mounted forward looking infrared (FLIR) camera that allows the operator to quickly locate and pinpoint the heat source.
About Oshkosh Corporation Fire & Emergency Segment
Known for safety, quality and leading edge technology, the Oshkosh Corporation Fire & Emergency segment designs and manufactures a full line of fire apparatus, mobile medical, broadcast communications, recovery and homeland security vehicles. Brands under the F&E segment include: Pierce, Oshkosh Airport Products, Medtec, Oshkosh Specialty Vehicles, Frontline and SMIT.
About Oshkosh Corporation
Oshkosh Corporation is a leading designer, manufacturer and marketer of a broad range of specialty access equipment, commercial, fire & emergency and military vehicles and vehicle bodies. Oshkosh Corporation manufactures, distributes and services products under the brands of Oshkosh, JLG, Pierce, McNeilus, Medtec, Jerr-Dan, Oshkosh Specialty Vehicles, Frontline, SMIT, CON-E-CO, London and IMT. Oshkosh products are valued worldwide in businesses where high quality, superior performance, rugged reliability and long-term value are paramount.