Firefighters testing technology to locate people faster in emergencies
The Reno Fire Department recently tested sensors by SimpleSense that were designed to assist firefighters in primary searches
---
By FireRescue1 Staff
RENO, Nev. — The Reno Fire Department recently tested new technology that could assist in locating people quickly during emergencies.
In the test, the department used sensors created by tech startup SimpleSense to locate two victims in a four story building in four minutes during a primary search. In a similar situation, the primary search would normally take around 16 minutes.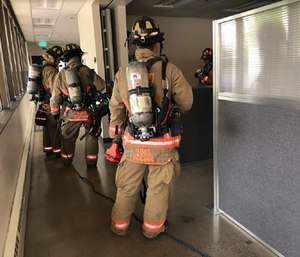 "Over my career, we've greatly improved how we get to an incident with better maps, routing and laptops in our fire trucks," RFD Division Chief of Operations Steve Leighton said. "Our primary concern on every incident is life safety and that means our main job is to rescue everyone who is in the building, and that means we embrace any tools or technology that helps us do that job better."
Retired police chief John Abbey helped SimpleSense develop their sensor technology and figure out how to best implement it.
"Technology has changed so much since we first put laptops in police cars in California in the late 80s," Abbey said. "SimpleSense has figured out a potentially disruptive way to find people faster inside a building." 
SimpleSense is running additional tests in schools, universities, offices, and other high hazard buildings across the U.S. to determine how best to implement their sensors.

Request product info from top Fire Technology companies
Thank You!