10 steps to buying the right TIC
Buying a thermal imager with too many or too few bells and whistles is not a good use of department money; here's how to get more TIC for your buck
---
Some key consideration when looking to buy a TIC include, but are not limited to, finding a model that offers the best value for the money, serves your long-term needs, and has the hardware and software features to provide the greatest use.
Regardless of the model a department's leaders chooses, quality and dependability, along with excellent technical support and service are also key purchasing factors.
The first step should be to conduct a thorough needs assessment based on the services that your department provides and the environments where the TIC will be used. The most obvious use for most departments will be during fire suppression operations, but what about other services provided by your department?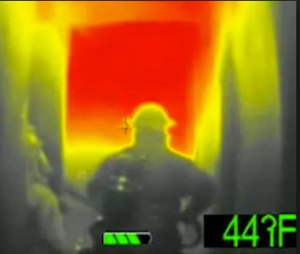 TICs are a valuable tool for other functions such as conducting fire code inspections for flammable liquid storage tanks and piping. Fire inspectors and investigators might benefit from a camera that provides flexible ergonomics, allowing them to comfortably point the imager around tight corners, down behind motors, or straight up for equipment inspections overhead.
Next, identify the intended users of the TIC you're looking to buy. Will they be primarily fire officers and firefighters using it for emergency responses? Or will it be used by both suppression and non-suppression personnel such as fire inspectors or investigators?
TIC technology changes rapidly, so make sure to include where thermal imaging technology is headed in your product research. Consider not just your current needs, but potential uses for the future and you'll have a better opportunity to "future-proof" your TIC investment.
Here are 10 steps that can help you when buying your next TIC.
1. Go for the highest image quality your budget allows.
Most infrared cameras have fewer pixels than visible-light cameras, so pay close attention to detector resolution. TICs with a higher resolution can measure smaller targets from farther away and create sharper thermal images.  
The difference between detector and display resolution matters. Some manufacturers may boast about a high resolution LCD and hide their low-resolution detector when it's the detector resolution that matters most. Higher-resolution thermal imaging provides a more effective display of a TIC's findings, which leads to better fireground decisions.
2. Look for a built-in visible-light camera with an illuminator lamp and a laser pointer.
There's no need to carry a separate piece of equipment to take photos when many affordable TICs now include a built-in digital camera that simultaneously captures visible light and thermal images. Digital photos that correspond to your TIC's images will help you further document situations and share that information with others, like sharing images captured by the first-arriving officer with the assigned fire investigator.
Built-in laser pointers are also invaluable, especially for isolating the location of a target surrounded by similar-looking components, such as breakers, or for pinpointing problematic energized electrical equipment where you need to keep your distance. Laser markers show up clearly on visible-light pictures to provide a reliable reference.
3. Look for accurate and repeatable results.
TICs don't just let you see differences in heat, they let you measure those differences, which means the accuracy and consistency of the measurements is a very important factor when determining the value of a camera. For best results, look for a thermal imager that meets or exceeds plus or minus 2 percent (or 3.6°F) accuracy.
In order to produce correct and repeatable results, your thermal imager should include in-camera tools for entering both emissivity and reflected temperature values.
An infrared camera that gives you an easy way to input and adjust both of those parameters will produce the accurate temperature measurements you need in the field.
4. Look for a TIC that stores and outputs broadly supported standard file formats.
Many infrared cameras store images in a proprietary format that can only be read and analyzed with specialized software. Others have an optional JPEG storage capability that lacks temperature information.
Some cameras offer a standard JPEG with full temperature analysis embedded. This allows you to e-mail TIC images to your colleagues without losing vital information.
Also, consider TICs that allow you to stream MPEG 4 video via USB to computers and monitors. This is especially useful for letting the incident commander see what conditions interior crews are operating in or for use during training activities. New mobile applications also have been developed that allow streaming video over Wi-Fi.
5. Look for Wi-Fi app compatibility.
Cameras compatible with this leading technology allow personnel to connect with smartphone and tablets so that users can import TIC images to their mobile device for portable analysis, report generation and sharing.
Being able to send thermal images and infrared inspection reports wirelessly from one part of a facility to another or by email from the field can be huge when time is of the essence.
6. Look for ergonomic features.
Consider the camera's interactive controls. Does it have dedicated buttons, direct-access menus, or both? A few extra simple buttons that are intuitively positioned can actually make the camera easier to use instead of relying on one button to step through menu options.
Some cameras offer integrated touch screens as another advantageous way to access functions and features, including text and sketch notations.
7. Look for MSX thermal image enhancement or picture-in-picture.
These features will enable you to combine thermal and visible-light images for generating reports that are easier to understand. MSX instantaneously adds visible spectrum details like numbers, labels, signage, and texture to the thermal image without obscuring or diluting the infrared scene.
Picture-in-picture another onboard mode that can be used for clearer documentation, allowing the user to inset a thermal image over its corresponding visible light photo.
8. Try the reporting software products.
Report generation is becoming an indispensable feature for fire departments that use TICs. Many infrared cameras come with free software that allows you to perform basic image analysis and to create simple reports. Advanced software for more in-depth analysis and customizable reports is also available.
9. Look for a wide temperature range.
A camera's temperature range and sensitivity are important considerations, too. The range tells you what the minimum and maximum temperatures are that the camera can measure (-4°F to 2,192°F is a typical example).
Select a TIC with a temperature range broad enough to capture all of the temperatures of the objects or scenes your people typically encounter.
10. Consider service before and after the sale.
Ensure that your investment in a TIC is backed by a reputable manufacturer who will provide both initial and ongoing training along with technical support. Also, look for a TIC that comes with a comprehensive, extended-warranty program to protect your investment for the long haul. 
Before you make the investment, ask for a demo in your work environment. Why? An infrared camera may work just fine in an air conditioned conference room, but you need to know how well it will perform under your department's real-world environmental conditions.

Request product info from top Fire Thermal Imaging companies
Thank You!