PRESS RELEASE
FLIR announces identiFINDER R200-GN spectroscopic personal radiation detector with neutron identification capability
---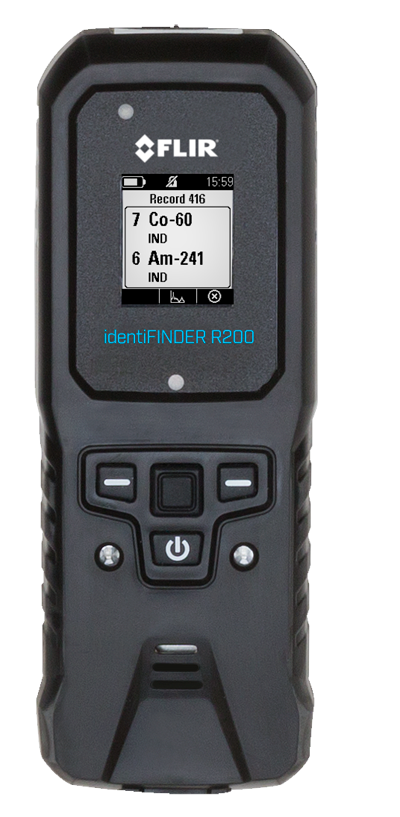 FLIR  is pleased to announce the FLIR identiFINDER® R200-GN spectroscopic personal radiation detector (SPRD), the latest addition to its industry-leading identiFINDER R200-Series handheld radiation security solutions. The rugged, pager-sized FLIR identiFINDER R200-GN SPRD can detect and identify neutrons, in addition to gamma radiation, allowing front-line responders to quickly determine whether there is a true radiation threat for safe, informed decision making.
Since neutrons penetrate material and travel distances greater than any other form of radiation, the FLIR identiFINDER R200-GN with neutron identification is an important early warning system for the detection of malicious material and an additional safety feature for responders.
The device meets the 1.5M drop criteria required by ANSI N42.32, one of the key performance standards for alarming PRDs in Homeland Security. The IP67 rating assures the R200-GN is protected against dust and immersion in water up to 1M depth.  The R200-GN enclosure is also MIL-STD-810G compliant to protect against salt and fog. The unit features integrated Bluetooth® Smart wireless technology which facilitates recording and sending real-time dose rates and geotag information via a companion mobile app. 
The identiFINDER R200-GN is currently shipping worldwide with pricing starting at $3,850 USD. To learn more about the identiFINDER R200, visit: http://www.flir.com/r200
About FLIR Systems
Founded in 1978 and headquartered in Wilsonville, Oregon, FLIR Systems is a world-leading maker of sensor systems that enhance perception and heighten awareness, helping to save lives, improve productivity, and protect the environment. Through its nearly 3,500 employees, FLIR's vision is to be "The World's Sixth Sense" by leveraging thermal imaging and adjacent technologies to provide innovative, intelligent solutions for security and surveillance, environmental and condition monitoring, outdoor recreation, machine vision, navigation, and advanced threat detection. For more information, please visit www.flir.com and follow @flir.

Request more info from FLIR Systems, Inc.
Thank You!