What's under your firefighter turnout gear?
Modern station wear has come a long way in both firefighter safety standards and professional appearance
---
Most firefighters appreciate that their turnout gear is a system designed to protect them during structural firefighting and welcome, on some level, the continuing effort that goes into improving their structural firefighting protective ensemble.
But when it comes to what's under that PPE, that's an entirely different subject, particularly when the topic is station uniforms. When safety discussions reach station wear, they often become less objective and more subjective.
The subjective viewpoint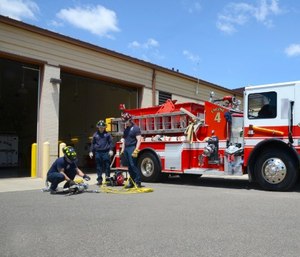 Most firefighters are very particular about having station wear that's comfortable and easy to care for (e.g., T-shirts and three-button polo shirts). For many fire department leaders, however, there tends to be a focus on professional appearance and longevity.
The objective viewpoint
When NFPA 1975: Standard on Emergency Services Work Clothing Elements was first adopted in 1985, the technical committee was focused on creating a standard based on the use of flame-resistant materials.
Their motivation was to build on the improvements made in the firefighting structural ensemble to protect the firefighter from the worst-case scenario: being caught in flashover and their PPE suffering catastrophic failure. The common wisdom at the time was that the second layer of protection – the station uniform – shouldn't make the situation worse by burning or melting into the firefighter's skin.
Station wear manufacturers were capable of developing firefighter station uniforms that were compliant with the early editions of NFPA 1975. However, the bigger challenge was making uniforms that firefighters wanted to wear and that fire departments could afford.
NFPA 1975 today
The current 2014 edition of NFPA 1975 lists the most up-to-date performance requirements for work apparel heat and thermal shrinkage resistance in Chapter 7; "Textile fabrics excluding inner linings shall be tested individually for heat resistance as specified in Section 8.2 and shall not melt, drip, separate or ignite and shall not shrink more than 10 percent in any direction."
Modern flame-resistant station wear
Station uniform manufacturers have made great strides in recent years to create fire station uniforms and apparel using newer generation flame-resistant fabrics that are more wearable, durable and good looking. The most commonly used fabrics are Nomex IIIA and modacrylic blends.
When looking for flame-resistant station wear that best addresses both the subjective and objective viewpoints of firefighters and officers, it's useful to understand that not all flame-resistant fabrics are alike.
All fabrics are a combination of fibers that, when put with other pieces of fabric, make a garment. Treated fibers are those that have a flame-retardant chemical applied to make them flame resistant after the fibers are created. The fibers themselves are not flame-resistant; they become flame resistant because of the chemical treatment.
Next, there are treated fibers where the flame-retardant chemical is added during the process that produces the fiber. When fabrics are made using treated fibers, those fabrics maintain their flame resistance for the life of the garment. Normal wear and laundering will not reduce the flame-retardant chemical, because it's part of the fiber itself. One example is treated 100 percent rayon, a man-made cellulosic fiber.
Another very popular treated fiber is a blend of cotton and modacrylic fibers. The modacrylic fiber provides both soft and strong components to the blend. It's also resistant to many chemicals and solvents.
Finally, there are inherent fibers that do not need to have flame-retardant chemicals added; the flame-resistant properties are part of the fiber's chemistry. Inherent fibers, and the fabrics made using them, also cannot lose their flame-resistant properties from normal wear or laundering.
Modacrylic fibers are some of the most popular inherent fibers.  They are primarily used in blends with other inherent flame-resistant fibers such as lyocell, para-aramid or polyamide imide fibers. Another popular inherent fiber is Nomex; Nomex is used as a stand-alone fiber and is often blended with Kevlar.  
Flame-resistant clothing firefighters will wear
One of the biggest challenges a fire chief faces is ensuring that employees wear their PPE and flame-resistant clothing. Previous generations of work uniforms made with FR fabrics were either too stiff and uncomfortable or they were too loose and gave us a slovenly appearance after several washings.
Today, flame-resistant fabrics can be used to create a crisp and professional looking traditional station uniforms that retain their flame-resistant capability and tailored appearance wash after wash.
For those fire departments looking for a more contemporary look while still having flame-resistant capabilities, manufacturers offer flame-resistant knit fabrics that can be used for T-shirts and three-button polos or Henley shirts. Additionally, those fabrics can be used to create workout clothing and dormitory wear that are flame-resistant rated, comfortable and wearable, giving station personnel the ability to wear flame-resistant rated clothing throughout their tour of duty