Used fire apparatus: Advice and tips for selling or buying
A volunteer firefighter/EMT talks about his used fire truck experience and how it led him to start his own company
---
In 1995, James Wessel became a volunteer firefighter/EMT with the Brindlee Mountain (Ala.) Volunteer Fire Department.
And in the summer of 1999, Wessel, who chaired the department's apparatus purchasing committee, helped select a pumper from a used apparatus dealer. The committee chose a dealer because they offered a warranty — an important service for an already cash-strapped department.
The truck was immediately put in service just before Thanksgiving.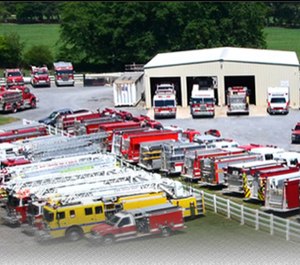 When crews received a house fire call, Wessel, the driver operator that day, took the engine on its first run. As the rig approached an intersection, it lost power and shut down completely.
The engine was towed to be evaluated and it was later reported to have spun a main bearing in the engine. The repair cost was over $22,000 — a hefty price tag Brindlee was unable to pay. Wessel, who was so intent on buying used with a warranty, was blindsided when the dealer didn't honor the provided warranty.
"Through the legal system, our fire department was paid the money that was owed to us," Wessel said. "But it was a very painful experience."
The dealer eventually sent the funds and the engine was put back in service in 2001.
"I didn't understand why a dealer would take advantage of a small volunteer fire department," Wessel said. "So I started my own business selling used fire trucks so that other departments would have access to honest, dependable business dealings."
So in 2001, Wessel launched Brindlee Mountain Fire Apparatus from a desk and telephone next to his bedroom at home. Ten years later, over 2,000 fire trucks have been sold to departments in 49 states as well as a handful of foreign countries. And Wessel makes sure to provide a warranty on every rig that leaves his shop.
Strategies for buying and selling used
Selling or buying a used apparatus can be complicated and frustrating.
While some departments decide to do it on their own, others choose a company to make the process easier and more efficient.
"When a department is selling an apparatus, we strongly recommend they look for a broker or dealer that has national or even international exposure," Wessel said. "That will bring the most buyers to the table for their apparatus and provide the most value to the selling department."
Wessel always advises that departments looking to buy a used apparatus consider purchasing a warranty.
"Whether buying or selling, departments must make sure to check the reputation of the company that they're looking to do business with," Wessel said.
Wessel, committed to making sure no other departments go through what his did, is eager to help and bring attention to the used fire truck market.
Selling by owner, he said, may allow departments to receive more money than if a dealer buys it directly.
"The downside is that you do not know how much you will get for your apparatus or when it will sell," he said.
Using a company offers fire departments exposure to a large number of potential buyers that can be difficult to reach on their own.
"If you have an apparatus for sale, do you think you can get the best value through 1,000 potential customers seeing it or 40,000 potential customers?" Wessel said.
And if you're using a company to buy or sell apparatus, Wessel recommends to always check references and to look for a company that has market presence and size to help meet your specific needs.
Buying used can be an affordable way to upgrade rigs, while selling used rigs can off set some of the cost of that new or near new apparatus. Understanding the lay of the land and learning from others like Wessel, can keep departments from getting burned in a deal. 

Request product info from top Used Fire Apparatus companies
Thank You!