PRESS RELEASE
ARI-HETRA Introduces A Complete Line Of Heavy-Duty Equipment Tools
---
MANASSAS, Penn. - ARI-HETRA manufactures a complete line of heavy-equipment management tools ideally suited to Firetrucks and Firetruck maintenance, including:
Lifting Systems
• Safest, most reliable method of lifting a vehicle
• Lifting capacity from 48,000 to 320,000 lbs.
• Reduce maintenance time while benefiting from added safety
Exhaust Systems
• Removal of dangerous exhaust fumes at the source
• Systems customized to fit your shop
• Factory-trained, in-house installers
• In-house engineering solutions
Wheel Service
• Exclusively heavy-duty
• Designed to service tires quickly, safely, and effortlessly
• Extensive line of wheel service equipment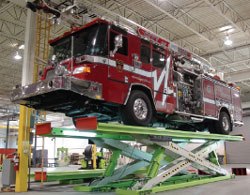 About ARI-HETRA
Automotive Resources, Inc. is the manufacturer of the ARI-HETRA line of heavy-duty transportation maintenance equipment. With over 30 years of experience, ARI-HETRA is well known for quality products around the world.
ARI-HETRA Lifting Systems, Exhaust Systems, and Wheel Service products are dependable, flexible, durable, and environmentally safe. Our quality has never been duplicated. The engineering design continues to progress with customer needs, and advancements in technology, materials, and manufacturing methods. Safety is central to the design of our equipment. Our unique design features and user satisfaction have never been equalled
Nobody matches the versatility of ARI-HETRA. The ARI-HETRA system is capable of servicing an entire fleet of diversified vehicles. ARI-HETRA systems are used in over 40 different industries and our customers include airlines and airport authorities, fire departments, military bases, transit, bus and coach companies, utility companies, school districts and heavy-duty automotive repair facilities, just to name a few.
Visit our site for information about a free demo.