Firefighters applaud addition of 2nd ambulance at Fla. fire station
Tampa Council Chairman Luis Viera championed the addition of the second ambulance after hearing of the station's overwhelming call volume
---
Charlie Frago
Tampa Bay Times, St. Petersburg, Fla.
TAMPA, Fla. — When Fire Chief Nick LoCicero announced that a second rescue car would be added to a fire station serving North Tampa, applause broke out in City Council chambers.
Bolstering service at Station 13 at 2713 E Annie St. has been a goal for City Council chairman Luis Viera and the firefighter's union, whose members did the clapping at Thursday's meeting.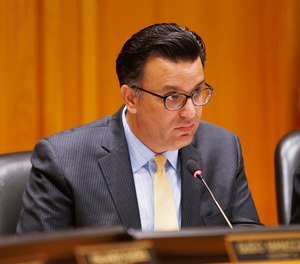 LoCicero said the second ambulance would be operating at the station by early March. It's the second increase in service in Mayor Jane Castor's administration. Earlier this year, at the urging of council member Orlando Gudes, the city added full-time service to an East Tampa fire station.
The second rescue car, currently in use as a reserve ambulance, would be stationed at the North Tampa station for the next six months while fire officials and Castor evaluate whether it should be made permanent, LoCicero said.
"From our data analysis, we know how busy that area is," he told reporters after his presentation to council members.
The chief didn't have an estimated cost for the pilot program, but said it would be covered by existing budgeted revenue with overtime used as needed.
Local 754 president Joe Greco said he appreciated Castor's willingness to figure out a way to relieve the crush of calls that were straining firefighters and paramedics at the station.
"It was due. It was really due," Greco said.
Viera said he makes it a point to visit the four fire stations in his district, which covers North Tampa and New Tampa, several times a year.
"Every time I would go to 13, people would always tell me that they were being overrun, overwhelmed," Viera said.
Viera raised the issue in January after Gudes secured a full-time car for Station 16 at 5126 E 10th Ave. The council chairman, who supported the increased ambulance service in East Tampa, said North Tampa was another area in need of better coverage.
But the city shouldn't try to meet its public safety needs in a haphazard fashion, Viera said.
"We shouldn't be looking at public safety through patchworks, saying 'Oh, let's take care of East Tampa. Let's take care of North Tampa.'" he said. "Let's have an agenda where we know all of our deficits so we can prioritize them accordingly."
———
©2020 the Tampa Bay Times (St. Petersburg, Fla.)
McClatchy-Tribune News Service