Ultra-high pressure suppression systems showcased at FRI
---
By Jamie Thompson
FireRescue1 Editor
DALLAS — Utilizing ultra-high pressure (UHP) fire suppression technology, the L1T was showcased by apparatus and equipment manufacturer HMA Fire at Fire-Rescue International in Dallas.
The all terrain track system-based ATV vehicle is equipped with a UHP system and can crawl over rocks, through mud and even across shallow water.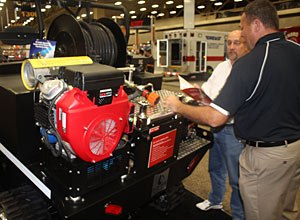 While the vehicle itself attracted visitors to his booth, Sales Manager Doug Eno said that much of the focus was on the suppression system built onto it.
Eno said while UHP is a relatively new concept, various tests in a variety of scenarios over the past few months have proved its value.
Originally developed for the U.S. Air Force, Eno said the company worked on its system as a replacement for halon as it was being phased out due to environmental concerns.
They were told to try to develop something that could extinguish a jet engine fire in under a minute, and Eno said the system — 20 gpm at 1400 psi — actually suppressed fires in under 10 seconds during tests.
"We started to recognize then that we could extend its use into other areas," Eno said.
"What ultra-high pressure does is take normal water droplets and then cuts it to about one-tenth its original size."
Smaller droplets create a larger total surface area, Eno said, which means more contact with the flames, quicker fire suppression and less wasted water.
The systems can be mounted to just about any motorized vehicle including ATVs, pick-up trucks and various-sized apparatus.
"When people have seen the ATV here, they automatically think the system can only be used in wildland environments, where water can be limited to what you bring in," Eno said.
"But we think this can be equally effective in structural and vehicle fires. What ultra-high pressure can do is extinguish fires with less water and less time than standard low pressure systems."
 For more information, visit HMA online.