Chicago firefighter sues Elkhart Brass over firefighting invention
The firefighter claims the company schemed him so they could sell or market the invention as their own; Elkhart Brass has not commented on the suit
---
ELKHART, Ind. — A Chicago firefighter and inventor is suing Elkhart Brass and two of its executives, alleging the company violated a contract to make, market and sell a device he invented to fight high-rise fires.
The Elkhart Truth reported that the suit states Capt. Michael Wielgat conceived the idea of the HERO (High-rise Emergency Response Offensive) Pipe. The tool mounts to a window sill or floor below a fire that breaks out above the 12th floor. It extends a telescoping arm upward, delivering water to the floor above.
In 2007, the U.S. Patent Office published Wielgat's patent, and in 2009 his invention won a Chicago Innovation Award.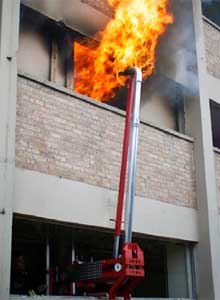 The device was conceived following the 2004 LaSalle Bank building fire in Chicago, where dozens of people were trapped above the 29th floor of the 45-story building. Firefighters struggled to reach those on the upper floors; 15 civilians and 22 firefighters were injured at that fire.
In 2010, the NYFD asked that the HERO Pipe be fitted with a remote control or movable monitor to better direct the water spray from side to side. Wielgat asked Elkhart Brass, a manufacturer of firefighting and fire protection equipment, to loan him such a monitor. The tests proved successful, prompting NYFD to order four units.
Wielgat formed Hero Systems Inc. in April 2010. Later that year, Elkhart Brass chief operating officer Don Sjolin approached Wielgat with an offer to manufacture the product. In April 2011, the parties entered into a license and manufacturing agreement, according to the suit.
A month before that agreement was signed, Elkhart Brass, having received Wielgat's drawings and engineering analysis for the HERO Pipe, filed patent applications in the United States and China in its own name, identifying Elkhart Brass employees as the inventors, the suit alleges.
The suit accuses Elkhart Brass in scheming to sell or market the HERO Pipe as their invention. Their agreement with Wielgat ended in December.
Elkhart Brass officials did not comment on the suit. Hero Systems' attorneys also did not respond to the paper's requests for comment.
Hero Systems Inc.'s suit was filed Jan. 9. No attorneys had yet entered appearances for the defendants.