Hydrant kits
---

By Mark van der Feyst
Securing a water source requires some vital pieces of equipment, especially when securing a hydrant. Most fire apparatus that carry large-volume supply hose will have a hydrant kit of some kind nearby.
As you can see in these two photos, there are different ways of preparing the hydrant kit so that it is ready to go when the hose is pulled.
No matter which way your department chooses, it needs to be easily accessible and easily carried by one person. Weighing down the kit with unnecessary equipment will only add to the frustration level.
The kit should contain some basic equipment such as a flashlight, gate vales for 2½- and 5-inch connections, a 45-degree elbow, a hydrant wrench, a spanner wrench, A Storz adaptor and a mallet. Other pieces may include different thread adaptors for various fire department threads such as the Pittsburgh 6 thread, which is unique to one certain location.
When running mutual aid calls, these adaptors are important to ensure continuity. Whatever the local needs and issues are, your hydrant kit needs to address it with the proper equipment. Be sure it does.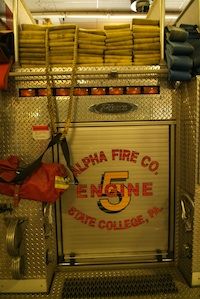 Request product info from top Fire Water Supply companies
Thank You!