Akron Brass Company Introduces New Global Manual Monitor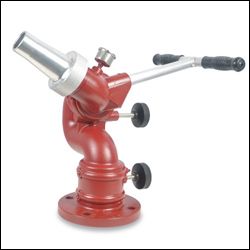 Wooster, OH– Akron Brass launches a new compact, high performing, cost effective monitor, the Style 3430 GP Manual Monitor.
Recognized worldwide, the GP Manual Monitor is rated for flows up to 1000 gpm (3800 lpm) with continuous 360º rotation. This lightweight monitor features a dual handle tiller bar design for maximum control and precise positioning with an elevation range of +90º to -45º. The Style 3430 is ideal for all your Masterstream firefighting needs. If you want simplicity and low cost but don't want to sacrifice superior performance, the GP Manual Monitor is your answer.
Akron Brass offers a wide range of manual and electric monitors (water cannons) for firefighting, wildland, crash truck, deicing, fixed site facilities, arena protection and many other unique applications.
About Akron Brass Company
Founded in 1918, Akron Brass is a worldwide marketer and manufacturer of high performance life safety, fire fighting and emergency rescue equipment. A Premier Farnell company, Akron Brass is ISO 9001: 2000 registered and has an excellent reputation for developing and manufacturing innovative products.
For more information on Akron Brass products please contact your local Akron Brass Distributor, visit www.akronbrass.com or call the Akron Brass Customer Service Department at (330) 264-5678.