PRESS RELEASE
Everything needed for accurate flow testing at your fingertips
---
The new Elkhart Hard Facts Calculator app provides everything needed for accurate flow testing at your fingertips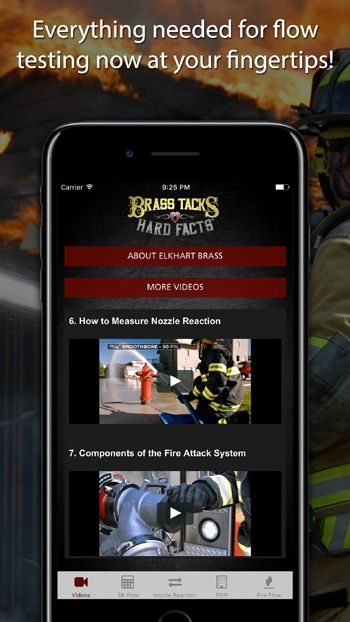 ELKHART, Ind. — Elkhart Brass has released the Elkhart Hard Facts Calculator app. Everything you need for accurate flow testing in one app. Calculators included in the app are:
Smooth Bore Discharges & Flow/Pressure
Nozzle Reaction for Smooth Bore Nozzles
Nozzle Reaction for Fog Nozzles
Pump Discharge Pressure for standard layouts, with ability to input hose coefficient depending on make and inside diameter
Pump Discharge Pressure with elevation changes and appliances
Pump Discharge Pressure for high-rise layouts
Fire flow formula calculators for both the NFA and Iowa Formulas
Also included in the app are direct links to the Brass Tacks Hard Facts video series.
This is available for FREE download on the Apple App store!  Will be available for Android users coming soon, check our website for updates!
About Elkhart Brass
Elkhart Brass has been a proven leader in the fire suppression industry since 1902.  Providing innovative and proven solutions, while placing equal importance on its commitment to quality, value and customer service.  Our vast product line includes handline nozzles, monitors, ERCM Industrial systems, gauges, flowmeters and valves.  Elkhart Brass is part of the Safe Fleet, Emergency & Industrial group.