Real Training for Real Responders: Chemical, Ordnance, Biological and Radiological
---
By Joel Lashley

Want to take another FEMA incident command course? Sooner jump out of the moving car on the way to the class? I hear you. But what if I told you there was a homeland security course you would actually enjoy? What if it's a hands-on course that may save your life, and the lives of those who depend on you? And what if it's a course that won't cost you or your department a dime, because it's a government program designed for the people who are actually responding? That's right — it's for the ones actually on the ground doing the work, before and after the smoke clears. DHS will even fly you there, house you, feed you, and drive you to school in the morning.
The U.S. Department of Homeland Security's Center for Domestic Preparedness (CDP), in Anniston, Alabama, has already trained thousands of our nation's first responders for the unthinkable event of a chemical, biological, radiological, nuclear, or explosive attack.
In the age of terror, our level of sophistication has thankfully risen above "duck and cover," back-yard bomb shelters and the sealed water barrels they used to store in school basements during the Cold War. After attending the week-long Weapons of Mass Destruction/Technical Emergency Response Training (WMD/TERT), and completing the Chemical Ordinance Biological and Radiological (COBRA) training, it's clear the DHS is serious about first responder training.
Among the CDP's many facilities on the sprawling former Ft. McClellan U.S. Army base is the Noble Training Facility, centered at Ft. McClellan's 100-bed army hospital. The NTF is responsible for training, research and development geared toward the assurance of healthcare personnel and facility survival and efficiency in the event of a terrorist attack or natural disaster. (The two facilities had been formal partners prior to the NTF's integration into the CDP in March 2007.)
The CDP offers courses not just for personnel responsible for preventing and detecting threats, but also for those responsible for disaster mitigation and the maintenance and recovery of post-incident assets. By including emergency medical, fire, police, public works, hospital personnel and all the people who actually control and run the country's long-term survival assets, the survivors of a catastrophic attack will actually have a chance at long-term survival.
Dedicated facility
According to DHS, the CDP's Chemical, Ordnance, Biological, and Radiological Training Facility is "the world's only toxic chemical training facility dedicated solely to emergency responders."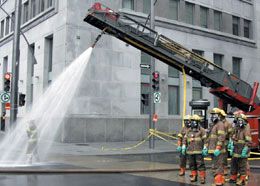 Photo courtesy of Homeland Protection Professional
City of Montreal firefighters prepare to decontaminate victims of a simulated chemical attack during a joint security exercise in 2005.
COBRA, as you might guess, is the course that gets the most attention. So much so that it's even sprouted little cottage industries, as base civilian personnel have taken to selling unofficial COBRA hats and T-Shirts to trainees on the side.
According to some of my CDP instructors, the center is one of the only places in the world that conducts live agent training. That's right boys and girls, if you've got the right stuff, you too can walk through controlled environments filled with deadly nerve agent — while wearing a gas mask and chemical gear, of course.
I did it, and survived to receive my coveted COBRA uniform pin (that I am told goes for a pretty penny on eBay!). And yes, I did see some people chicken out. I also saw someone wearing a "100 COBRA Entries and Survived" patch. I think I'll pass on earning one of those, but I am glad I did it once.
Realistic environments
If you attend the WMD/TERT and COBRA course at the CDP, you will train in realistic environments simulating the aftermath of a CBRNE attack. You'll wear a variety of equipment including SCBA, PAPR, and MOPP gear.
Police can take a course to learn how to use their patrol rifles and adapt their crowd control procedures, while serving in full chemical suits. Emergency medical personnel practice triage and field medicine in realistic environment and PPE. Responders also learn to use chemical and biological detection and decontamination equipment.
At times, it's hard and hot work dragging heavy training mannequins around and decontaminating them, but once you're finished, you'll have a glimpse of what's expected of you if the real thing ever happens in your community.
Housing is in a comfortable clean barracks, with a private bedroom and a bathroom shared with one adjoining neighbor. The officers club is open to all CDP trainees, but it closes early for the 4 a.m. blood draws.
Base transportation is provided to take you to and from local attractions, stores, and restaurants at no charge. Transportation, to and from the CDP, is prearranged at your local airport, from where you are flown to Atlanta. CDP buses then pick you up for the 90-minute drive to Anniston, Alabama, nestled between the beautiful Appalachian hills and Talladega National Forest. If you only had the time, it would be a beautiful place to hike and camp.
At the CDP, public health personnel train alongside firefighters, hazmat teams, law enforcement officers, SWAT teams, bomb squads, military and emergency medical personnel from all over the country. We train together because if the worst happens we'll all be working together, under the worst possible circumstances, in an epic struggle to survive — just ask anyone who has ever survived a chemical, biological, radiological, nuclear, or explosive attack. If you go to the CDP, you'll have the opportunity to ask them yourself. Some of them will be your instructors. It doesn't get any more real than that.
Joel Lashley is a Crisis Intervention and Defensive Tactics Instructor who has worked as a public safety professional for 25 years, including 17 years of service in the health care setting. Joel leads the training program for hospital, clinical, and social outreach staff in Violence Awareness, Prevention, and Management at Children's Hospital of Wisconsin in Milwaukee, the only level-one pediatric trauma center in the region, serving critically injured and ill patients throughout the Midwest.