Firefighter who nearly died needs financial help, ranger says
Forrest Throckmorton collapsed and nearly died from a heat stroke while working a fire in late June; he suffered significant kidney and liver damage
---
By Eric Quitugua
The Times-News
BOISE, Idaho — The Idaho City District Ranger needs the public's help in providing funds for the family of Boise National Forest firefighter Forrest Throckmorton.
Throckmorton collapsed and nearly died from a heat stroke while working near Idaho City in late June. He suffered significant kidney and liver damage and was hospitalized in Salt Lake City in critical but stable condition.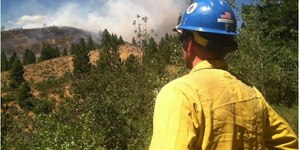 Though he was released on July 31, his recovery will likely be long and difficult. His parents have taken off work and have been staying in Salt Lake City near the hospital to help their son recover. But they face increasing expenses.
"It would be so helpful to support and pull for Forrest through this serious health issue and not have his parents concerned about daily expenses," Petersen said. "He has been literally fighting for his life and his family has hardly left his side."
The Wildland Firefighter Foundation has provided funds but because Throckmorton's recovery will be long, additional funds will be needed.
"On every visit I have made, Forrest and his family tell me how grateful and humbled they feel for the support of the District as well as the Wildland Firefighter Foundation," Petersen said. "They have been incredibly positive through daily ups and downs, are very supportive and are truly good people who are proud of Forrest's work as a firefighter with the Forest Service."
The Ranger District asks that those wanting to help the family visit Throckmorton's Go Fund Me site.
___
(c)2015 The Times-News (Twin Falls, Idaho)
Distributed by Tribune Content Agency, LLC.