Swedish fire expert critical of US firefighter safety at FRI
Dr. Stefan Svensson gave a damning indictment of safety within the U.S fire service four years ago, and this year had a follow-up
---
"I will insult you and I am willing to tell you things you don't like. Some of you will be angry with me — and I am very sorry — but I have to say some things that need to be said."
As far as introductions go, they don't come much blunter than the one delivered by the Swedish firefighter and fire instructor Dr. Stefan Svensson at the start of his Fire-Rescue International presentation Thursday.
His name — or tone of delivery — may well sound familiar. At the same event, also in Atlanta, back in 2007, Dr. Svensson gave a damning indictment of safety within the U.S. fire service.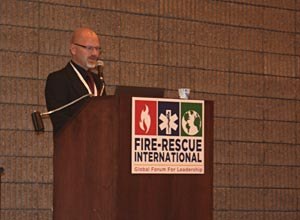 If it was aimed at sparking debate, Dr. Svensson succeeded judging by the activity it inspired on fire service forums in the weeks that followed.
Four years on, Dr. Svensson returned to the conference to give an updated perspective — and it wasn't necessarily positive.
Titled "You can talk the talk, but can you walk the walk?" Dr. Svensson said in the presentation that he had noticed a lot of discussions on firefighter safety in the U.S. in the past couple of years.
"But I am not sure you are actually making firefighting in the U.S. any safer," he said.
While firefighter fatalities are generally on a downward trend, Dr. Svensson said the number of firefighter fatalities per 100,000 fires every year isn't declining in the same manner — despite the fact civilian deaths in fires are.
"My conclusion is that you as a fire service are taking greater and greater risks to save nothing," he said.
Firefighter safety is a very complex problem, the session was told, which can be covered in three areas:
• Health/fitness
• Knowledge
• Culture
Regarding fitness, Dr. Svensson said it is well known that approximately 50 percent of all firefighter fatalities in the United States are related to some cardiovascular problem.
"I can see it's a big problem but I find it hard to understand, as from my point of view it's obvious that firefighters need to be in good shape, but it does not seem to be like that over here," he said.
"If you look at the firemen in Europe, you will find most of them are in pretty good shape."
The solution? Medical testing, according to the presenter, as the CPAT is more ability-testing oriented as opposed to fitness and health focused.
Knowledge levels regarding tactics and how fire actually works also needs to be improved, according to Dr. Svensson, who holds a PhD in fire science.
"No matter if you're fighting fires from the outside, from the inside or responding to car accidents, you need knowledge to do this," he said. "
"I see a very serious lack of knowledge in the U.S. fire service especially when it comes to fires in buildings.
"There seems to be a lack of understanding of what's going on inside the building and what's going on outside the building.
"Venting the fire is not always the solution; sometimes it's the cause of a lot of the problems especially if you don't have the knowledge."
Firefighters "are not supermen," the session was told. Being aggressive does not mean going into situations that are more or less lethal to anyone inside, civilians or firefighters, Dr. Svensson said.
"Why do we push on when things go bad? Why don't we stay on the outside? Being aggressive requires a great deal of knowledge. But we can only be aggressive if you have the knowledge."
Finally, the biggest problem with the U.S. fire service remains its culture, according to Dr. Svensson and many traditions and ways of doing things need to be changed.
However, he did at least give some praise and said there are areas to admire about the U.S. fire service, praising the command structure, building assessment and fire flows in this country.
"You don't do everything wrong," he said. "Keep the good stuff, just cut out the bad stuff."