Fla. man seriously injured in head-on crash with fire engine
Firefighters were transported to the hospital for evaluation
---
Patricio G. Balona
The Daytona Beach News-Journal
ORMOND-BY-THE-SEA, Fla. — A man was seriously injured when his sport utility vehicle crashed head-on with a Volusia County fire truck in Ormond-by-the-Sea on Monday afternoon, authorities said.
The crash occurred at 12:04 p.m. at Ocean Shore Boulevard and Sandra Drive, dispatchers confirmed.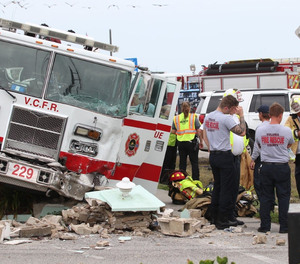 Authorities said the SUV, believed to be a Chevy Tahoe, was driving recklessly just before it crashed with the firetruck.
First responders arriving on scene said a man in the SUV was a trauma alert and called a helicopter to transport him to the hospital.
Authorities said preliminary reports indicate the firefighters were not injured but were transported by a battalion chief to the hospital for medical evaluation.
Paramedics transporting the man extricated from the SUV said he was suffering from a cut to to the forehead and injuries to his chest and abdomen.
___
(c)2021 The News-Journal, Daytona Beach, Fla.
McClatchy-Tribune News Service