10 years later: Reflecting on the loss of two Buffalo firefighters
Buffalo fire commissioner and division chief share what's changed in the 10 years since the deaths of McCarthy and Croom
---
Some dates represent haunting memories of firefighters lost. Some resonate more than others. None are easy. Dec. 3, 1999 (Worcester 6); Sept. 11, 2001 (343); June 18, 2007 (Charleston 9); June 30, 2013 (Yarnell 19).
Aug. 24, 2009, was one of those unfortunate landmark days that haunts our fire service family. Ten years ago, Buffalo (N.Y.) Fire Department (BFD) Lieutenant Charles "Chip" McCarthy and Firefighter Jonathan Croom were killed while operating at a mixed commercial/residential structure fire at 1815 Genesee St., where there were reports of civilians trapped.
In the week leading up to the 10th anniversary of the fire, I spoke with Buffalo Fire Commissioner William Renaldo and Division Chief Patrick Britzzalaro about the department's response and recovery from the Genesee Street fire. Renaldo was recruit school classmates with Britzzalaro, who served as the operations section chief at the Genesee Street incident.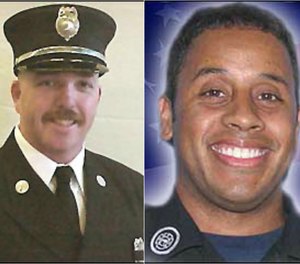 What happened: Aug. 24, 2009
In addition to my interview with Commissioner Renaldo and Division Chief Britzzalaro, some of the details below are taken from the NIOSH incident report released in 2010.
Arriving Buffalo units discovered a heavily secured mixed commercial/residential structure with smoke showing. Following failed initial attempts to locate an entry to the basement, crews located a door on side 2 (the Bravo side) that provided access down a flight of stairs to a basement entry door. Despite repeated attempts by multiple crews, they were unable to access the door.
Approximately 30 minutes into the basement fire, after other crews performed searches of the first and second floors finding no civilians, command ordered all crews to exit the structure. McCarthy and two firefighters from his crew entered the structure at the front to verify that all firefighters had exited a first-floor deli. While following a hoseline into the structure, the first floor partially collapsed beneath McCarthy, dropping him into the basement. The other two firefighters were unaware of the collapse but exited when shelves began falling on them.
McCarthy made several mayday calls from within the structure and activated his personal alert security system (PASS) device. There was confusion on scene when trying to verify who was calling the mayday, their exact location and how they got into the basement. The incident commander was unaware that there had been a floor collapse within the deli section of the structure. 

As the mayday was heard, Croom – a member of the firefighter assistance and search team (FAST) – entered from McCarthy's point of entry. It is believed that Croom knew where McCarthy was since he had gone in the structure with him earlier in the incident. Other firefighters also entered the deli, and those crews discovered the floor collapse and reported hearing a PASS device. They were not aware Croom had entered. 
As Command conducted accountability checks, McCarthy was immediately identified as missing. Croom was not accounted for as missing until the third accountability check, more than 50 minutes after McCarthy's mayday.
After the fire was controlled and entry could be made, both victims were discovered laying beside each other in the basement where the first floor had partially collapsed. Their facepieces were on, but their SCBA cylinders were empty.
No civilians were ever discovered within the structure.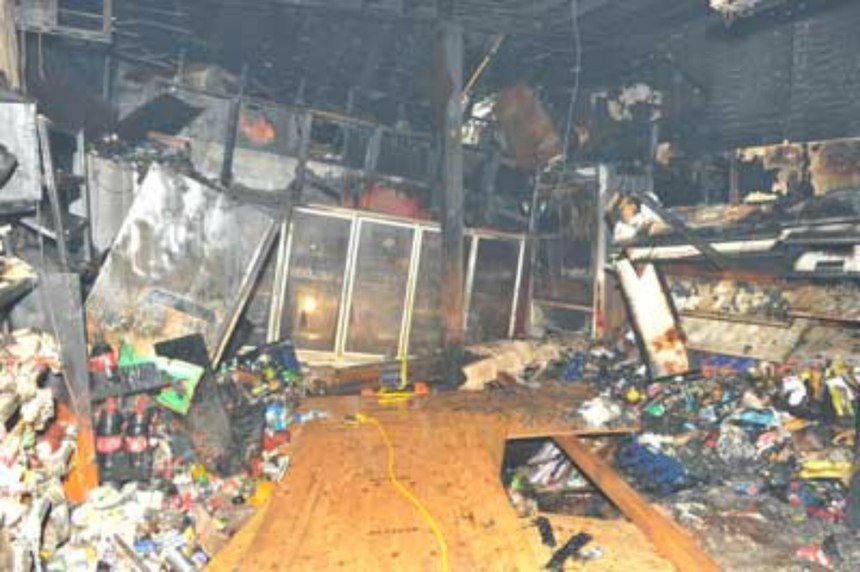 NIOSH report recommendations
The NIOSH report lists six fire department recommendations and two manufacturer/designer/researcher recommendations:
Fire department recommendations
Ensure that all personnel are aware of the dangers of working above a fire, especially a basement fire, and develop, implement and enforce a standard operating procedure (SOP) that addresses strategies and tactics for this type of fire.
Ensure that the IC receives interior status reports and performs/continues evaluating risk-versus-gain.
Ensure that crew integrity is maintained at all times on the fireground.
Ensure that the IC receives accurate personnel accountability reports (PAR) so that he can account for all personnel operating at an incident.
Ensure that a separate incident safety officer, independent from the IC, is appointed at each structure fire.
Ensure that fire fighters use their SCBA and are trained in SCBA emergency procedures.
Manufacturer, researcher, designer recommendations
Conduct research into refining existing and developing new technologies to track the movement of fire fighters inside structures.
Continue to develop and refine durable, easy-to-use radio systems to enhance verbal and radio communication in conjunction with properly worn SCBA.
Making changes after tragedy
Immediately following the incident, Britzzalaro reported that enhanced mayday training took place within the BFD. They incorporated self-rescue and self-evacuation training throughout the department.
When we discussed basement fire tactics (NIOSH recommendation 1), Renaldo cautioned on the fact that, "every fire is different, every location is different," adding that, "The Training Bureau has revised all of our operating procedures over the years to account for the latest tactical plans, but I can't emphasize enough that every fire and every scene is different."
Britzzalaro told me the revamped basement training emphasized identifying ventilation points and breaching techniques, FAST teams and having a "door man" at the entrance. 
Situational awareness, crew integrity and PARs were mentioned in the next four NIOSH recommendations, areas that Renaldo believes the BFD has made great strides to address in the past 10 years: "We've improved our accountability system and training, ensuring that both an accountability officer and safety officer are dispatched to all working incidents, improved the mayday and safety training, and improved our equipment," he said. "We have ensured that two-in/two-out has been instituted and that everyone has a radio that they are trained to operate. Our FAST teams have reinforced the discipline necessary to stay and work together on their singular mission. Even though it's a 'small' thing, the larger 'man-down' button has been a big improvement over the past 10 years."
Commissioner Renaldo noted that the biggest change over the past 10 years has been in the department's communications and accountability systems – both in systemic accountability and crew accountability: "We've included our dispatchers in emergency procedure and mayday training, further improving our capability," he said.
The final NIOSH recommendation involved SCBA training, which has been part and parcel to the enhanced and increased mayday training. Renaldo notes that the BFD is in the process of evaluating systems to replace the currently aging SCBA equipment. "The addition of the Pak-Tracker [Scott firefighter location system] was a big deal and helps us better understand where our firefighters are at all times," he said. "We'll be looking at what new is out there to improve that visibility (which speaks partially to the manufacturer recommendations)."
"We've also improved our training and use of thermal imager cameras (TICs), using them for many different scenarios that TICs were originally developed for – rescue, fire extension, electrical shorting, etc.," he added.
Like Renaldo, Britzzalaro cautioned that every fire is different and that no cookie-cutter approach is going to work. He emphasized the importance of practical training, saying that BFD is doing everything it can to get practical training experience for their young firefighters. "You can talk about it, watch videos, train in the fire station all you want, but nothing replaces the 'wow this is it,' the anxiety, the stress," he said. "You just can't get that experience without real-life work."
Although Commissioner Renaldo (who was a battalion chief at the time of the fire) did not run the fire, he believes the BFD is better prepared today than they likely were in 2009. "The enhancements in mayday, self-rescue and evacuations, technologic and communication advances, and a higher state of awareness make us better today," he said. He added that "several recent steam burn incidents drives home the need for us to constantly evaluate our protective equipment to make sure we have the best. That's why we're evaluating different vendors and equipment now."
None of the equipment matters if we, as a fire service, don't constantly train, evaluate, learn, develop and improve our operations.
Renaldo shared that each recruit school that comes through the BFD learns about the Genesee Street fire. The classes take a field trip to the scene and discuss the incident in-depth with instructors – definitely a case where "never forget" takes on a poignantly humble and personal meaning.
2019 celebration of life
For Britzzalaro, the anniversary brings the fire scene and the haunting details right back like it was yesterday.
Many of the people who experienced the fire, the investigation and the initial training no longer work for BFD. The department addressed the fire with its membership, but many have since retired. "We've had a lot of people leave and now we're a very young department," Britzzalaro noted.
Keeping Genesee fresh with each recruit class gives Britzzalaro and others chiefs who worked the fire an opportunity to "bare their souls" to these sponge-like recruits. "They learn the good, the bad and the ugly from that day," he said. "They are exposed to the whole incident." 
This Aug. 24, the remembrance will begin with a public vigil to be held at the Genesee Street location, at 4 a.m., the approximate time that McCarthy and Croom went missing. While the vigil will clearly be a remembrance, Renaldo notes that the families have asked for the 10-year anniversary and recognition to be held as a celebration of life.
The vigil will be followed by a luncheon at Croom's station, Ladder 7 (McCarthy was assigned to the Rescue). The luncheon will be followed by a mass at the cathedral downtown followed by some time out with the families on the BFD fire boat.
Learning from the past
In addition to the NIOSH report, BFD released its own Investigative Report. I encourage everyone to read both the BFD and the NIOSH reports, as we only learn from each other when we allow ourselves to. In my 38 years of this business, the most valuable lessons I've learned have been from my/our mistakes. It's not a weakness to admit mistakes and make improvements – the weakness is in believing we know it all and have nothing to learn.
To Renaldo's point that "every fire and every scene is different," we must always train and be prepared for the expected – and the unexpected.