Baltimore fire lieutenant-medic dies during elective surgery
Fire Lt.-Paramedic Keturah Shanetta Wyat, 40, died while undergoing elective surgery in the Dominican Republic
---
Jacques Kelly
The Baltimore Sun
Keturah Shanetta Wyatt, a Baltimore City Fire Department lieutenant, died while undergoing elective surgery Oct. 8 at a hospital in the Dominican Republic. She was 40 years old and lived in Northeast Baltimore.
Born in Baltimore, she was the daughter of Littleton B. Wyatt, a retired grocery store retail clerk, and his wife, Wanda Hayes, a medical billing administrator.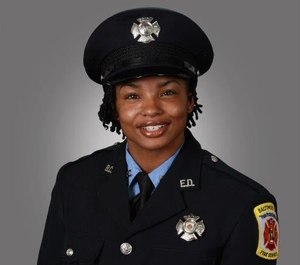 She attended Govans Elementary School and Chinquapin Middle School, and was a graduate of Mergenthaler Vocational Technical School. She studied cosmetology and manicuring work.
His parents said that as a 14-year-old she developed an ability to paint fingernails and in a few years developed a following of regular customers.
She later worked at salons on East Cold Spring Lane in the Northwood neighborhood and at shops in downtown Baltimore.
"Her customers were big tippers and soon she saved enough to pay cash to buy her first car, at age 18," her father said. "Keturah had an outgoing personality. People said her smile would light up a room."
She then became a flight attendant for Ryan International Airlines. She later joined the Transportation Security Administration and was based at BWI Thurgood Marshall Airport. She was a security agent and screened passengers.
"She then set her sights on following in the footsteps of her grandfather, Littleton B. Wyatt Sr., a firefighter," said her father.
She graduated from the Baltimore City Fire Academy and went on active duty March 20, 2006. She was assigned to Engine 29 on Park Heights Avenue, where her grandfather served for decades.
She was promoted to paramedic in 2011, then was named a lieutenant. Her father said she was due to be named a captain.
Most recently she served as a lieutenant at Engine 43 and EMS 4 on Walters Avenue in Northeast Baltimore.
In a recent publication for the Baltimore Design School, where one of her daughters is a student, Ms. Wyatt said, "As an EMS supervisor my duty is to keep my members, myself, and the community safe. We are working very hard to keep the members and the public informed about COVID-19. [It] has put stress on my family because I have not been able to spend time with my daughter since the beginning of [the pandemic. I have always been interested in saving lives, and community outreach."
She also credited her grandfather, the firefighter. "When I got hired, my grandfather had already died, but I feel proud when I hear all the wonderful stories about him. He lives on in the hearts of many," she said.
Colleagues in the fire department said she liked helping people. They said she was a good supervisor and made sure her co-workers had the equipment they needed. She insisted they were safe on their jobs, and characterized her personality as cheerful and upbeat.
Her co-workers said she brought a positive outlook to her job. They said she took the stressful calls, including people suffering from cardiac arrest. She also handled the trauma calls and shootings. They said she had a calming presence in these situations because she was compassionate with people.
Erin Hewitt, a friend from their days in Bible studies at the Kingdom Hall of the Jehovah's Witnesses, said: "Keturah was the first person who taught me to take a selfie. She said, 'Look up and smile.' I remember how we got into innocent trouble as teenagers and how we grew up and became mature women together. She and I bought our first houses at the same time and we raised our families.
"Keturah was trusting and honest. She told me what was on her mind. And most importantly, she was a loyal friend."
She also recalled that Ms. Wyatt had an excellent singing voice, and loved cookies and sweets.
In addition to her parents, survivors include her two daughters, Kamiya and Karis; two grandmothers, Katherine Wyatt of Prairie Grove, Illinois, and Virginia Hayes of Lawrenceville, Virginia; and two sisters, Shejuan Penn Dominguez of St. Johns, Florida, and Lorna Wyatt of Cockeysville.
Services were held at the Estep Funeral Home on Oct. 29. Mayor Bernard C. "Jack" Young and Baltimore City Fire Department officials attended the funeral. A private burial was held at Dulaney Valley Memorial Gardens.
___
(c)2020 The Baltimore Sun
McClatchy-Tribune News Service