N.C. volunteer firefighter dies after ATV crash
Brock Currens, 17, was trying to help extinguish a car fire at a motorsports park when he crashed his ATV
---
By Zachery Eanes
The News & Observer (Raleigh, N.C.)
BENSON, N.C.—A 17-year-old died after an ATV crash on Saturday evening at the Galot Motorsports Park in Johnston County.
The young man was identified as Brock Currens, a volunteer firefighter, according to ABC11, The News & Observer's news partner.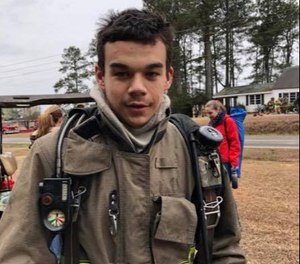 He suffered fatal injuries after flipping over the handlebars of the ATV while braking, a Johnston County Sheriff's Office official told The News & Observer. He was transported from the park but later died of his injuries, the official said.
The incident occurred during a crash derby that Galot Motorsports Park, in Dunn off N.C. 242, hosted on Saturday night, according to the park's Facebook page.
The event was a full-contact derby, which is described as a combination of round track racing and a demolition derby.
Around 20 people participated in the derby, according to a list of competitors on the park's Facebook page.
The crash happened after one of the cars competing in the race caught on fire, Jeff Caldwell, a captain with the Johnston County Sheriff's Office, said in a phone interview. Caldwell said it was his understanding that the man was acting as a volunteer firefighter, though not in an official capacity, and was trying to help with the fire when he crashed his four-wheeler.
The sheriff's office interviewed multiple individuals at the track before determining the crash was an accident.
Efforts to reach Galot Motorsports Park were not immediately successful.
Copyright The News & Observer (Raleigh, N.C.)
McClatchy-Tribune News Service