Ore. volunteer firefighter dies in boating incident
Janice Arsenault, 44, of Umatilla, was remembered for her positive outlook on life, contagious laugh and desire to live life to its fullest
---
Cameron Probert
Tri-City Herald (Kennewick, Wash.)
KENNEWICK, Wash. — Umatilla Fire Protection District members are mourning the loss of a fellow volunteer firefighter, after her body was recovered from the Columbia River.
Janice Arsenault, 44, of Umatilla, was remembered for her positive outlook on life, contagious laugh and desire to live life to its fullest, the district said on Facebook.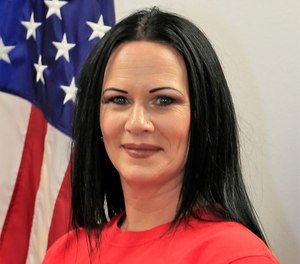 "Words alone cannot express the appreciation and gratitude we have to all of those individuals and groups who stepped forward to help our agency, our family, in our efforts to bring home our sister," the post said.
Arsenault was one of two missing boaters found Monday after falling into the river on Saturday.
Columbia Basin Dive Rescue used sonar to find her and Trenton Patrick Williams, 20, of Idaho, around 8 p.m., the Umatilla County Sheriff's Office said.
The two were found near where they disappeared — an area called "Bobby's Beach."
The spot is along Highway 730 near Hat Rock State Park.
They went missing Saturday evening while riding on the dive step on the back of a boat as it moved toward the beach. By the time the boat's driver, Richard Kirkendall, 41, of Hermiston, stopped they had disappeared into the water.
While investigators know there were more people on the boat, they are still trying to determine how many were onboard, said Lt. Sterrin Holcomb with the Umatilla County Sheriff's Office.
Arsenault and Williams were not wearing life jackets, said the sheriff's office.
Columbia Basin Dive Rescue search crews used sonar to locate Arsenault first at 8 p.m., and then Williams about a half hour later. The teams have been using the equipment for the past two days to search the murky river water.
The Tri-Cities rescue group recently bought the equipment after starting a fundraising campaign last fall.
The Umatilla County Sheriff's Office was joined in the search efforts by crews from across the region, including Benton and Franklin counties.
An investigation into what happened is ongoing, said officials.
The sheriff's office thanked all of the agencies that helped in the search including, the Morrow County Sheriff's Office, the Army Corps of Engineers, Umatilla Fire Department, Umatilla County Fire District, Franklin County fire and Lifeflight Air Ambulance.
———
©2019 Tri-City Herald (Kennewick, Wash.)
McClatchy-Tribune News Service