Wis. firefighter dies during swim portion of triathlon
An impromptu procession to honor Mahoney took place as firefighters and police officers escorted him from the hospital to the medical examiner's office
---
By FireRescue1 Staff
MADISON, Wis. — Madison Fire Department Firefighter Todd Mahoney died Tuesday after he was pulled unresponsive from the water during the swim portion of an Ironman triathlon on Sunday.
Mahoney, 38, was pulled from Lake Montana during the race, according to the Wisconsin's State Journal.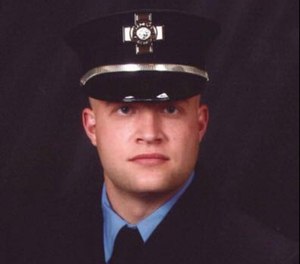 The medical examiner's office has not released Mahoney's cause of death, but the fire department said it is possible that he had a medical emergency in the water.
An impromptu procession to honor Mahoney took place as firefighters and police officers escorted Mahoney from the hospital to the medical examiner's office.
Mahoney spent nine years working as a firefighter-paramedic for the the Madison Fire Department, and leaves behind a wife and three sons.
"I join his firefighting family in mourning his loss and express my deepest sympathy to his wife and three children," Mayor Satya Rhodes-Conway said.