29 Texas fire depts. heading to Calif. to help with wildfires
Around 98 firefighters from 20 different counties are being deployed in an activation of the Texas Intrastate Fire Mutual Aid System
---
By FireRescue1 Staff
COLLEGE STATION, Texas — A large group of firefighters from 20 different counties are heading to California to help battle the wildfires.
ABC7 reported that around 98 firefighters are being deployed from 29 different fire departments around the state in an activation of the Texas Intrastate Fire Mutual Aid System, which provides wildfire and all-hazard incident support.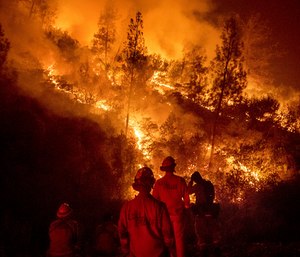 "It's about neighbors helping neighbors," Texas A&M Forest Service Director Tom Boggus said. "We call TIFMAS our 'surge capacity' for Texas. Guess this time their reach is a bit farther away but we hope to make a big impact in people's lives."
Texas is also sending 25 fire trucks and five strike teams to help battle the Mendocino Complex, the largest wildfire in California's history.
Webster Fire Department Chief Patrick Shipp, who is helping organize the deployment of five fire trucks to California, said fighting wildfires is the same in any state, according to CW39.
"If you know how to fight a wildland fire in the state of Texas, you know how to fight one in Oregon, Washington and California," Shipp said. "'If you know how to fight a house fire in this state, you can fight one in those states too."