Firefighter-paramedic recounts Fla. school shooting, saving teen's life
Lt. Laz Ojeda teared up as he recalled making the decision to take Madeleine Wilford to a closer hospital instead of the policy-dictated hospital 30 miles away
---
By FireRescue1 Staff
PARKLAND, Fla. — A firefighter-paramedic who made a split decision that may have saved a teen's life after the Florida high school shooting recalled the incident through a flood of emotions.
Washington Post reported that Coral Springs Fire Department Lt. Laz Ojeda was faced with the decision of breaking policy to save Madeleine Wilford, who was bleeding out from multiple gunshot wounds.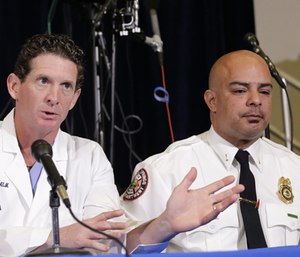 According to guidelines, Lt. Ojeda was to take child patients to a hospital 30 miles away, but he chose instead to take Milford to a closer urgent care facility.
Lt. Ojeda said police had mistaken Milford for dead before she showed signs of life when she was shaken. She had a collapsed lung, decreasing blood pressure and although an officer blocked air from entering her chest with a seal, she needed surgery or she would drown in blood.
Lt. Ojeda also said he was skeptical of her presumed age of 15, so he revived her by rubbing her sternum a couple of times.
"She came around. She told me she was 17," Lt. Ojeda said through tears.
That's when Lt. Ojeda made the final decision to take her to the closer hospital.
"That decision contributed to saving her life," Lt. Ojeda recalled what a doctor later told him.
"I'd just like to say that I am so grateful to be here. And it wouldn't be possible without the doctors and first responders and … all the love that everyone sent," Wilford later said in a news conference where she sat four chairs down from Lt. Ojeda.
Lt. Ojeda said it was a group effort to get Wilford to the hospital as fast as possible, and added that the chest seal the Broward County Sheriff's Office SWAT member plugged her with was the biggest thing someone could do to save her life outside of surgery.
"Those officers did the hardest thing," Lt. Ojeda said.
Lt. Ojeda was able to visit Wilford in the hospital after a doctor recognized him while he was bringing another patient in.
"And then," Lt. Ojeda said, "we just went back to work."