Firefighter saves police officer having heart attack at gym
Firefighter James Axiotis performed CPR and delivered an AED shock to Officer Sean Walker after he collapsed
---
By Patricio G. Balona
The News-Journal
DAYTONA BEACH, Fla. — An off-duty Daytona Beach firefighter working out at a gym saved the life of a police officer, who had a heart attack, while exercising at the same facility, authorities said.
The incident occurred on Friday around 7:30 a.m. at the L.A. Fitness in Port Orange, Daytona Beach Fire Department spokeswoman Sasha Staton said.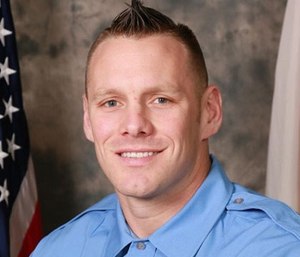 Staton said that firefighter James Axiotis noticed a group of gym-goers gathered around an unresponsive man, who was on the floor.
A caller to 9-1-1 said the person, later identified as Daytona Beach police Officer Sean Walker, had fallen down in the back of the gym.
"He is turning purple," the caller told a dispatcher. "I don't think he has a pulse."
The caller said Walker was having a hard time breathing and was unconscious.
Axiotis performed CPR and asked a bystander to get an automated external defibrillator and delivered a shock to Walker, Staton said.
Walker started breathing again and had a pulse when he was taken to the hospital, Staton said.
A cardiologist said Walker survived because of Axiotis' quick action, including CPR.
"In addition to being outstanding employees in their respective agencies, Axiotis and Walker are both dedicated to serving and protecting the public," Staton said in an email.
Axiotis, 33, is a nine-year veteran driver/engineer with the Daytona Beach Fire Department and also the Tactical Emergency Medical Support — SWAT Medic — for Daytona Beach police, Staton said. He was unavailable for an interview on Monday.
Walker, a veteran of the U.S. Marines and retired police sergeant from Port Orange Police Department, has been with the Daytona Beach Police Department for more than eight years. Walker has also been a Defensive Tactics and Firearms instructor at Daytona State College's Law Enforcement Academy for over 17 years.
Both Axiotis and Walker have a passion for physical fitness.
Axiotis is known as the fire department's fitness guru, and for encouraging his fellow firefighters to maintain their physical health by providing unique workouts with equipment on a fire truck, Staton said.
Walker is currently recovering at home and is expected to make a full recovery, Staton said. The officer declined an interview on Monday, said Sgt. Kelsey Harris, police spokesman.
Copyright 2019 The News-Journal
McClatchy-Tribune News Service