Production on deadly Ariz. fire movie set to begin Monday
The director of 'Granite Mountain' said the film will not focus on how the firefighters died, but on 'true heroism'
---
Associated Press
PHOENIX — The producers behind a movie about the elite firefighting team that lost 19 members in a 2013 Arizona wildfire assure the story focuses on the firefighters' dedication, not the way in which they died.
"Granite Mountain" is slated to start production Monday with a cast that includes Josh Brolin and Academy Award winner Jennifer Connelly, The Arizona Republic reported.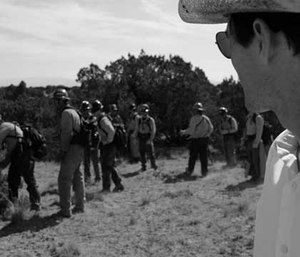 The movie will be filming in Santa Fe, Los Alamos and several other cities in New Mexico through early September. It is slated to open in theaters in September 2017.
Producer Lorenzo di Bonaventura said the plot will focus on Eric Marsh, who led the crew, and Brendan McDonough, the only surviving hotshot crew member. He said it will not focus on tragedy or the exact details of the fire.
"This movie is about the lives of these people and what they were trying to put on the line, and what it meant to them to do what they were doing and what it meant to the community to have them doing it," he said.
Brolin will play Marsh, who was superintendent of the Granite Mountain Hotshot crew, with Connolly playing his wife, Amanda Marsh.
Other cast members include Miles Teller, Jeff Bridges, Taylor Kitsch and James Badge Dale. Director Joseph Kosinski said it is a story of "true heroism."
"The more I discovered about these men, their families, their relationships and where they came from, the more I was drawn into it," he said.
The real Amanda Marsh said it is important that the hotshots are portrayed as people, not just a tragedy.
"I want the world to understand what it is like to be a hotshot and what it is like to be a hotshot wife," she said. "Neither is easy. Both come with their own sense of deep responsibility and commitment to the job. I hope Eric's personality comes through and that people get a sense of who Eric was."