Video: Calif. boy with autism celebrates 5th birthday as firefighter
Maddox, in custom turnouts, rode a fire engine with lights and sirens and pulled hose to put out a "fire"
---
SACRAMENTO — Most 5 year olds celebrate with cake and ice cream. Maddox, on the other hand, celebrated his birthday by fulfilling a lifelong dream: becoming a firefighter. 
The Sacramento Fire Department shared photos and video on its Facebook page Wednesday of Maddox getting into his custom turnouts, riding in a fire engine with lights and sirens and pulling hose to put out a "fire."
Maddox's family says the little boy, who was diagnosed with autism at young age, has always wanted to be a firefighter.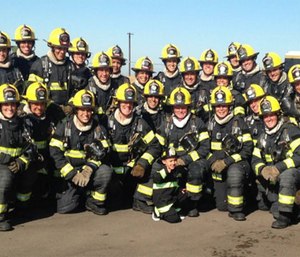 Getting to spend his birthday with the 42 recruits of the Sacramento Fire Academy was a dream come true for him. 
The Fire Department said the day ended after Maddox climbed to the top of the five-story drill tower and rang the Baeta Bell. Members also sang the boy a rousing rendition of "Happy Birthday."
"It is a day we are sure he won't soon forget. Happy birthday Maddox, and best wishes on becoming a firefighter someday from your new Sacramento fire Family!" the department wrote on its Facebook page.