W.Va. city fire chief honored with highway naming
Chief Robert Edward Dorsey also served in the Army in World War II and saw action in Normandy, the Rhineland, the Ardennes, Northern France and Central Europe
---
Elaine Blaisdell
Cumberland Times News, Md.
KEYSER, W.Va. — A portion of state Route 46 was named the Chief Robert Edward Dorsey Memorial Highway on Thursday in honor of the longest serving volunteer firefighter in state history.
"With the highway named in front of the fire hall every time they leave the station, they are driving on Bob Dorsey Memorial Highway and he will be their guardian angel watching over them," said state Del. Gary Howell, who sponsored legislation to name the highway.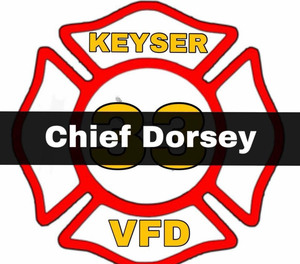 Dorsey Memorial Highway runs from the intersection of Route 46 (Piedmont Street) and U.S. 220 (Mineral Street) west to the Keyser city limits, where Route 46 leaves the city as part of Carroll Avenue.
Elected officials gathered Thursday for a dedication ceremony at the corner of Armstrong and Piedmont streets.
Dorsey, who served 70 years as a volunteer firefighter with the Keyser Volunteer Fire Department, died in September 2018. He was a life member and oldest active member of the Keyser department, the Cumberland Valley Fireman's Association, Mineral County Firefighters Association and the West Virginia Fireman's Association.
"I'm very proud and happy that it (dedication) happened on D-Day," Judy Dolechek, Dorsey's sister said. "He was a fireman — he was very dedicated to that. He is just really special."
Dorsey served in the Army in World War II and saw action in Normandy, the Rhineland, the Ardennes, Northern France and Central Europe.
"As the longest serving volunteer firefighter in the state of West Virginia, I am glad that the accomplishments and sacrifices that Robert Dorsey made will be forever memorialized," wrote U.S. Rep. David McKinley in a letter provided to the family. "A sincere thank you to his family for sharing him with the community for over 70 years. His service would not have been possible without their support."
On Dorsey's 50th anniversary with the fire company in 1991, the Mineral County Chamber of Commerce honored him for his service.
Dorsey reluctantly retired from the department in 2011, saying age caught up with him.
He was also a former chief of police in Keyser, sheriff of Mineral County, shop foreman at Smith Ford Sales and a funeral assistant with Smith Funeral Home. He retired as the clerk of the Circuit Court for Mineral County.
Follow staff writer Elaine Blaisdell on Twitter @eblaisdell.
———
©2019 the Cumberland Times News (Cumberland, Md.)
McClatchy-Tribune News Service