Firefighters in Fire Trucks Getting Ice Cream – John Salka
Lessons learned and great stories from a fire service legend
---
By Jesse Quinalty
While teaching at a conference earlier this year, I had the opportunity to hang out with my friend John Salka, battalion chief (ret.) of the FDNY.
In this edition of Firefighters in Fire Trucks Getting Ice Cream, I pick up Chief Salka in a 1972 Crown Firecoach, which was originally Pump 27 of the Los Angeles City Fire Department out of the Hollywood station, and we cruise around Hollywood in a piece of fire service history to a little ice cream shop on Melrose Avenue called the Cold Rolled Ice Cream Company.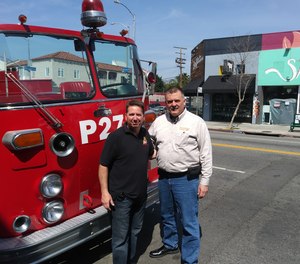 Chief Salka and I talk about everything under the sun – literally as we have no roof over the cab. As we admire the varying types of building construction, we discuss rapid intervention crews and what it means to sit in the right front seat of the apparatus because, as Salka puts it, "You are not in the front seat to beep the horn."
Once inside the ice cream shop, one of my favorite conversations over our frozen treat is a story about when Salka was a young firefighter on 11 Truck working as "the can man" going up to the fourth floor of a tenement building on fire with a hook and a 2½-gallon extinguisher. Salka tells a great story about an interaction with a senior firefighter who ultimately tosses Salka's hook out the window. He also shares a lesson learned about balancing family and work life.
Watch the full conversations in Parts 1 and 2 below.
About the author
Jesse Quinalty is a master instructor and the owner of Red Helmet Training, which houses four classrooms and a command training center in Southern California. He specializes in company officer training as well as table-top and digital fire simulations. He is a captain with the San Bernardino County (California) Fire Department, working in Division 6, and was the operations and training captain at his previous department.