Thanks for the (holiday) memories
The holiday memories we now cherish are those we give to today's children
---
Winter weather (for those who don't live in a tropical rain forest) wrapped gifts, Christmas trees, colored lights, and family gatherings are just a small sampling of the things you expect to see this time of year.
It would be fair to say that many people have their most cherished memories of this time of year — be it waiting for Christmas morning or going down a hill on a new sled.
I have a lot of memories from the Christmas season. The small town next to ours would line the main street with small Christmas trees on poles. They were lit up at night and I couldn't wait to see it every year. Of course the big Christmas tree being decorated at the municipal building was another.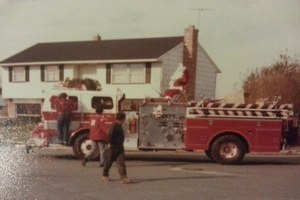 Those of you who know me or follow me on FireRescue1 have figured out where this is going. Yes, of course it comes back to Santa making the rounds on the fire truck.
Itchy face
All over our vast expanse of a country, Santa Clauses were chauffeured about towns perched atop a fire trucks this December. As a member of the social media movement, I am friends with several fire departments around the country. I have noticed they refer to this tradition by several names: Santa Run, Candy Handout, Operation Santa Claus, Santa Tour to name a few.
Naturally, as a kid I couldn't wait for this day every year. I can still recall seeing the pumper come around the corner. I gazed in awe at the large gleaming red and chrome machine in its flashing red light Mack Thermodyne glory.
Of course, sitting atop the hose bed in a chair was the man in the red suit, who, as fate would have it, had drawn the short straw and had to don the itchy beard.
With no disrespect or being demeaning to any other occupation, there is nothing that comes close to Santa on a fire truck. Aside from Santa fast roping down from a helicopter, a fire truck is hard to beat. It's Norman Rockwell like.
The first time I witnessed this spectacle, Santa was in an open-cab Mack; later Santa made the rounds on a Ward La France. I didn't really even care about the candy cane.
I pestered an old school mate into sending me a photo of the actual event. The photo is not the best quality as it is from the mid-1970s from the town where I grew up.
Safety Santa
Now years later, I have actually made the Santa drive a few times. I have handed out candy canes to wide-eyed children on more than a few Saturdays.
The day would always start off with a safety briefing. No throwing candy, keep the kids on the sidewalk and nobody gets on the truck for pictures. We would stop and let a photo be taken with Santa as the backdrop if somebody really insisted. The idea was to keep the kids a safe distance from the truck.
Santa sat atop the cab in a chair, speaking of safety, and it was incumbent on the driver to watch for low-hanging limbs. On more than a few occasions we had to spring into action for a fire response. Naturally, we got Santa down first.
My two now nearly grown children even came along a few times to hand out candy canes. Working in an economically depressed part of town I explained to them that some of these kids won't get much more for Christmas. That made a big impression.
Making memories
As with time travel, our rule was that when using two Santas on two trucks they could never be seen together. That could inflict irreversible damage on a young mind — and possibly warp the time-space continuum.
Now that I think about this, I have never played St. Nick. Hopefully that's because I am not big and grey enough. However, I am sure my day is coming.
So if this past month you found yourself transporting Santa, remember that makes a big impression on young minds, especially in those who still believe. You aren't just handing out peppermint; you are carrying on a tradition. Some of the kids you give tooth rotting sugar to will talk about their Santa fire truck experience long into their adulthood.
The guys in the local volunteer department who handed me candy are long gone now from active fire service. I would love to thank them for giving me that memory. So as Bob Hope would have said, "Thanks for the memories."
We have made another year. However, before we go there are some somber remembrances December. Pause to reflect on the Worcester Cold Storage fire and the Buffalo gas explosion among others.