Rapid Response: Firefighters should treat traffic-adjacent calls like hazmat incidents
A freak accident in San Francisco underscores the dangers of working near moving vehicles
---
WHAT HAPPENED
In what is easily termed a freak accident, a San Francisco Fire Department (SFFD) firefighter suffered a critical injury during a call to a reported high-rise fire.
One week ago today, on Nov. 2, Firefighter Matt Vann was struck by a hoseline, fell to the ground and hit his head. He was reportedly unconscious and not breathing when fellow firefighters came to his aid. Most recent reports indicate that Vann remains in critical but stable condition.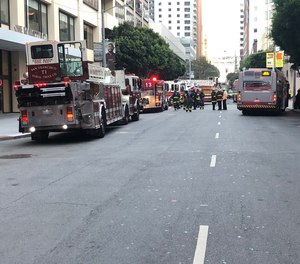 While the exact details of what caused Vann to be struck by the hoseline are unclear, we do know that a San Francisco commuter bus drove through the scene at the time. Incident photos show the hose underneath the bus. The SFFD has mentioned the bus driving through the scene as a factor in the incident, but again, we don't know specifically what caused the hose to strike Vann.
WHY IT'S IMPORTANT
According to the Emergency Responder Safety Institute, 44 emergency responders from various disciplines have been struck and killed by vehicles so far in 2020.
Assuming the bus was indeed a factor in Vann's injury, this incident serves as an important reminder of the dangers associated with traffic in and around working scenes. Whether it is highway blocking or basic barrier control in a parking lot, firefighters must be vigilant about safety and hyper-aware of their surroundings when operating where traffic normally flows.
TOP TAKEAWAYS
We see all too often drivers who either believe barriers are not meant for them or who are unable to process the importance of calm avoidance in the face of an obstacle to their forward progress.
From a pragmatic perspective, I have long advocated treating traffic the same way we treat radiation, that is, in consideration of time, distance and shielding. Let's consider how to apply these factors to firefighter safety:
Time: Limit your time on target (near traffic)
Distance: Increase the potential interaction between you and moving traffic through strategic placement of apparatus to establish safety zones. While use of cones, tape and other moveable barriers is not optimum, they can provide early and extra warning where large vehicles are not available or emergency access needs to be maintained.
Shielding: Secure your scenes as best as you can, recognizing that parking lots can be difficult to secure. We must attempt to secure parking lots similar to how we block highway lanes or thoroughfares to provide safer operating zones.
Avoid walking or operating where hoselines and traffic may interact (when that's possible). I recognize that's much easier said than done on a large and/or active scene, but it's a critical point. If you've ever watched a hose get wrapped around an axle or a coupling flip and rip as it gets wedged between duals of a truck, then you understand how violent the uncontrolled whip of cotton or neoprene hoselines can be.
The situation in San Francisco highlights the simple fact that the rapid-intervention team isn't only needed inside structures. The RIT had likely stood-down, as the incident had deescalated. But even as scenes wind down and command is terminated, we must continue to look out for each other and stay keenly aware of how traffic and other scene hazards can increase our exposure to odd and accidental mishaps.
WHAT'S NEXT
As the San Francisco police and fire department work with the California Division of Occupational Safety (Cal-OSHA) and San Francisco MUNI to investigate the incident, firefighters (and all other responders) must consider their own efforts to stay safe on incident scenes involving roadways.
Continue to treat parking lots and roadways like the hot zones that they are. Distracted, obstinate, impaired, angry – whatever the demeaner – drivers behind many-thousand-pound vehicles are like roving missiles. Use the takeaways above to limit your time on target: Get in, get done, and get out alive!