Fire academy scholarship presented in honor of slain paramedic
The Anthony Jackson Memorial Scholarship Fund Award, which honors a paramedic who was shot and killed, was presented to Kenneth Brown Jr. by Jackson's mother
---
Taylor Tiamoyo Harris
St. Louis Post-Dispatch
ST. LOUIS — Anthony Jackson didn't live to fulfill his dream of becoming a firefighter, but his mother has made sure someone else gets that chance.
Janice Jackson stood as a proud parent Wednesday evening before an audience of about 50 people as she presented a $4,000 fire academy scholarship check in a ceremony at the headquarters of the Northeast Ambulance and Fire Protection District.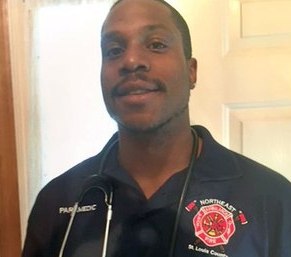 Kenneth Brown Jr., a 26-year-old husband and father of two, has his tuition for the St. Louis County Fire Academy completely paid, and by 2021 he could be fighting fires in North County.
"It's beyond words for me. I've wanted to be a firefighter for the past five years and my name even came up for the fire academy this past September, but I didn't have money," said Brown, who said he's worked odd jobs to support his family over the years. "Now that I'm able to get my career started, helping people, serving people in the community and being a positive role model for young black men, it's amazing to me."
Janice Jackson is the mother of Anthony Jackson, a paramedic who was shot to death in 2017 at age 36 during an argument with his childhood friend, 39-year-old Troy Whitaker.
On Wednesday, Janice Jackson sported a shirt with a photo of her son and the definition of the word "brother."
Initially, she shopped for a shirt that said "son," but the store had run out. Now, she thinks "brother" was more fitting.
"He was a brother to his sisters, a brother to those he served as a paramedic and a good black brother in this community," Janice Jackson said. Her son had worked as a paramedic in St. Louis and had saved up enough money to become a firefighter in the county.
Janice Jackson said she has had many sleepless nights in the two years since her son was killed and suffers from post-traumatic stress disorder.
As she mourned his loss, she decided one day she would raise enough money to help someone else achieve the dream of becoming a firefighter. After she started her campaign, Quinten Randolph, the Northeast Ambulance and Fire Protection District fire chief, heard about it and intervened, having The Northeast Firefighters Foundation match Janice Jackson's fundraising efforts.
Randolph joined Janice Jackson as they presented the check to Brown. The audience included the two emergency medical technicians who responded to the scene when Anthony Jackson was shot, along with Anthony Jackson's paramedic instructor, Monroe Yancie.
"Anthony was a good, no-nonsense, hardworking individual who studied hard," said Yancie, who performed a saxophone tribute during the scholarship presentation.
For Jackson, 2019 began with some resolution to her son's killing. Though Whitaker was arrested a day after the fatal shooting, it was not until February that he pleaded guilty to involuntary manslaughter. He was sentenced to seven years in prison.
Now this is also the year Janice Jackson carries on her son's legacy through the Anthony Jackson Memorial Scholarship Fund Award, which she hopes to continue.
"My heart is just so full today," she said. "I just wanted to remember my son and help somebody. I know that's what he would have wanted me to do."
———
©2019 the St. Louis Post-Dispatch
McClatchy-Tribune News Service