First responders participate in largest-ever search-and-rescue exercise
FEMA-run Shaken Fury gives emergency responders the opportunity to build relationships and improve their actions in a real emergency
---
By News Staff 
MUSCATATUCK, Ind. — Eleven emergency response teams are participating in one of the largest search-and-rescue, multi-agency simulated exercise in the U.S. this week.
FEMA requires this type of exercise – this year dubbed Shaken Fury – every three years, giving each participating S&R team the opportunity to see how they respond to major emergencies such as an earthquake, 10 News reports.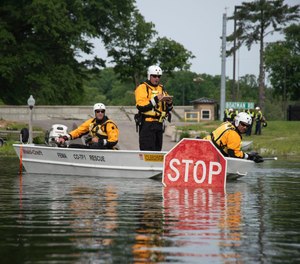 "We want them to go out and perform their skills they've been taught through the years. We also want to stop and slow it down so that we can critique what they are doing, so when we go out again, we can hopefully do it that much better," Task Force Training Coordinator Lloyd Mueller said.
The teams are responding to a mock 6.6 Modified Mercalli (MM) Intensity Scale earthquake disaster in the Wabash Valley Seismic Zone. Team crews in the exercise include urban search and rescue crews from Canada, Australia, California, Colorado, Nebraska, Ohio, Tennessee, Indiana and Illinois.
"We've been deployed to an earthquake, a simulated earthquake in Indiana. We are exercising all the different disciplines," Capt. Michael Smith of Lincoln Fire and Rescue said. "This is very important for not just us, but for the community and the nation."
Lincoln Fire and Rescue is one of 74 task forces that will be in Indiana this week for training.  The Nebraska Task Force 1 (NE-TF1) is another team and they are tasked with responding by ground and air.
The training scenario lasts four days, during which time teams participate in realistic S&R efforts that include setting up the base of operations, searches, helicopter training and building collapse rescues. They will do all this in a flooded environment.
At the end of the training simulation, FEMA will provide feedback to the crews to help them improve their actions in a real emergency.