Hey firefighter, what's in your pockets?
I was told from day one to never get off the rig without a tool in your hand
---
By Scott Ziegler
Over the years I've noticed that people on this job have all kinds of different preferences as to what they like to bring into a fire with them.
I was told from day one to never get off the rig without a tool in your hand. That advice has always proven to be handy. Like recently when an angry dog almost made it over an 8-foot fence while we were investigating some down wires. At the time I was carrying a sledge with me — not something you typically need to check on wires in an alley, but I was glad I had it. I used it to save myself and my sergeant from losing our faces to the pitbull by giving the dog a few gentle taps on the nose until he dropped off the top of the fence. Always have a tool.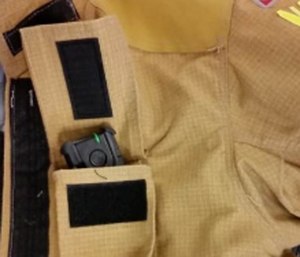 Everyone has their favorite hand tool at a fire: an ax, sledge, the irons, a pike pole (which is underrated). Some guys like new stuff like the pig tool, or fancy multi tools like the Denver tool. Hand tools are obvious.
What I think some guys forget about is what to put inside all those pockets we have on our gear. Since firefighting isn't always about forcing doors, or tearing up the inside of houses, it's important to make good use of those pockets. You might even say you could judge a firefighter by the weight of his/her coat. Is it weighed down with extra tools in the pockets? If not, it should be.
I remember the first time a boss asked me what was in my pockets. I fortunately had the inside track on what he wanted me to have before starting my first day, so I was ready. But before my buddy gave me that info, I honestly never even thought about it.
I had 50 feet of rope with a carabiner on the end, a pair of pliers, wire cutters and a screw driver.
The first time we got one of those calls here in Detroit, my boss asked me for a screw driver and I didn't have one. I felt like an idiot. We actually went to Home Depot that day and bought one.
I used to keep an extra cheap flashlight as well. And I usually have a couple bundle straps on me. In case I, or someone, loses one. Again, being the guy who has what's needed on the spot, even if it's small, always feels great. And it might just save your life one day.
I have probably carried other things at times, but these are the main ones that I always make sure I have. And it has worked out for me so far.
So, what do you carry in your pockets?