Ohio fire, EMS, police agencies will receive new emergency vehicles
Departments across the county are in the process of ordering or receiving new ambulances, police cruisers and fire engines as old equipment breaks down, wears out or becomes unsafe
---
Brian Haytcher
Star Beacon, Ashtabula, Ohio
ASHTABULA, Ohio — The costs for maintenance and new vehicles for emergency service departments can lead to big expenses for municipalities, but area first responders stress the cost is worth it.
Departments across the county are in the process of ordering or receiving new ambulances, police cruisers and fire engines as old equipment breaks down, wears out or becomes unsafe.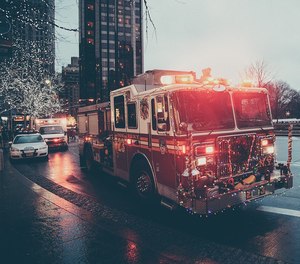 Wear and tear from road conditions, salt and general use all shorten the life of emergency vehicles in northeast Ohio, and it shows from the list of new vehicles being purchased this year.
Based on information from various departments, ambulances cost about $200,000, police cruisers tend to cost between $30,000 and $35,000 after upgrades and fire trucks can cost well above $1 million.
Ambulances
South Central Ambulance District will take delivery of a new ambulance June 5, Chief Shaun Buehner said. The ambulance, costing $213,000, marks a change from a van chassis to a truck chassis, which increased the cost by $30,000. The district has four ambulances, and replaces the oldest one every three years.
In contrast, the Northwest Ambulance District refurbishes their ambulances instead of replacing them, Administrator Vince Gildone said. The district has no plans at the moment to purchase a new ambulance, but two of their four are scheduled to be refurbished.
"None of our vehicles are what I would consider used up," Gildone said.
Northwest still has ambulances from 15 years ago, and their most recent purchase was at least 10 years ago, he said. The district has funds set aside for an emergency purchase, should one become necessary.
The Ashtabula Fire Department currently only has one ambulance, and is borrowing an additional one from Ashtabula Township, Chief Shawn Gruber said. The department would like to purchase a new one soon.
"That would be the next critical piece. It's in and out the door all day long," he said.
Fire Engines
The Ashtabula Fire Department took delivery of a new engine in February, Gruber said. The engine was purchased in 2018, and cost the city $500,000. The department has three primary engines and one ladder truck, with another engine in reserve.
"The engine we just put into the backup status, it didn't have much more life as a front-line engine," he said. "It was pretty urgent."
The department has fire engines from 2018, 2006 and 2002. Its ladder truck is from 1991.
"A new ladder truck is going to cost about $1.2 (million)," Gruber said. For now, there aren't plans to replace the ladder truck. "Right now, it works."
Orwell village has spent $35,000 over the last two years on maintenance of its four fire department vehicles, village fiscal officer Ella Stanton said. The village is planning to replace all four of the vehicles at some point soon, but no firm date or order has been established, Administrator Joseph Varckette said.
The village has about $200,000 in capital funds saved for buying new equipment, Varckette said.
"We have so many things that need to be replaced," he said.
Police Cruisers
During the campaign to replace Geneva's police levies this spring, City Manager Doug Starkey the department has numerous police cars out of service, and now that the levy has passed the plan is for the city to buy two police cruisers per year.
In Andover, the police cruiser situation is difficult, with two of the village's four vehicles being more than 10 years old.
"We're hoping to" buy a new vehicle, Police Chief Chris Baker said.
The department aims to purchase a new SUV, replacing a 2006 Crown Victoria. The SUV has a smaller turning radius, making it easier to navigate cramped intersections, Baker said.
Last year, Orwell replaced two of it's cruisers, and retired two vehicles, which Varckette said were badly in need of it. With the new purchases of police vehicles, two of their older cars were retired.
The Ashtabula City Council recently approved funds to purchase five new police cruisers for the police department, Chief Robert Stell said. The cruisers, once they are delivered, will relieve a shortage the department is currently facing.
"Guys are sharing cars," Stell said.
Each officer having their own car ends up being more cost efficient over time, Stell said.
"There's been a number of studies on it," Stell said. "You're just not replacing the cars more often."
Like Stell, Jefferson Police Chief Dave Wassie sees better results when officers are assigned their own cars.
"They keep it up nicer," he said.
The Jefferson Police Department just received a new SUV, for their fleet. The total price for the new vehicle was about $35,000.
"I have the oldest car in the fleet, and it's a 10-year-old Ford Escape," Wassie said. "You get five years of good life out of a cruiser."
He estimated the SUVs might get another year or two of life.
Wassie had a five-year rotation for police cruisers set up, he said.
"The secret to this is to stay in that rotation, and not vary from it," he said, adding, "I try to make sure that the front-line, full-time road guys are the ones getting the new cars. That's why I'm driving a 10, almost 11 year old car."
Maintenance
No matter the type of vehicle, districts still need to keep them in repair.
Maintenance costs for ambulances increase after three years in service, Buehner said. He estimated the district spends about $7,000 per year on maintenance.
The Orwell Fire Department's maintenance costs grew high because of the fleet's age, Varckette said.
"When they go in for their (preventative maintenance), there's a slew of other things outside of a general maintenance item that the maintenance people are finding," he said. "The cost of maintaining the vehicles has just skyrocketed over the last several years."
The Ashtabula police department has between 35 and 40 vehicles at the moment.
"Just like anything else that gets old, the older it gets, the more you have to put money into it to keep it on the road," Stell said. "We've got an older fleet. ... The last three years, we've been putting more money into the fleet than we normally would, just to keep things running."
Money spent on maintaining an old piece of equipment is money that can't be spent on other projects, Ashtabula City Manager Jim Timonere said.
"These are definitely things you don't want breaking down," he said.
Wassie saves money on maintenance in a number of different ways, starting with the kind of vehicles the department buys. SUVs need less maintenance over time and sell for more money after the department is done with them, he said.
"I more than recoup the extra I pay when I initially purchase them," he said.
The Jefferson police department has also switched from dark blue cruisers to white ones.
"We went to all white cars because it was easier on the air conditioning than the dark-colored cars," Wassie said. "It's just a lot cooler for the guys in the car. ... It's their office for eight hours."
Assigning cars to officers has other benefits.
"If one guy has a cold or the flu, it doesn't go through my whole department," Wassie said. "They're not coughing on the steering wheel, then then next guy comes in and then he's sitting in this car that this other guy's been sick in for the last eight hours."
———
©2019 the Star Beacon (Ashtabula, Ohio)
McClatchy-Tribune News Service