New York Fire Patrol: The story of the NYC's almost forgotten fire service
The NYFP was primarily tasked with protecting property, but its members also saved lives alongside the FDNY's Bravest
---
At its peak, the New York Fire Patrol had hundreds of members, plus its own stations and trucks. It even had line-of-duty deaths and is forever connected to Sept. 11, 2001. But it was never part of FDNY.
The New York Fire Patrol began as a voluntary effort to protect building contents from fire and water damage, and in its last iteration was a symbol of a father's love for his son.
This is the story of the men who served in this unique service.
EARLY DAYS: LINEN BAGS, BED KEYS AND NERO
The organization that ultimately became the New York Fire Patrol first began in 1803 as a salvage corps called the Mutual Assistance Bag Company, according to the New York City Fire Museum. The main tools used by members were linen bags to carry property away and bed keys. Since a bed was a valuable belonging, patrolmen would disassemble a bed with the key.
In 1835, the Association of Fire Insurance Companies assumed the operation. It paid four men an annual salary of $250 each, as explained by Police1 author Doug Wyllie.
A few years later, in 1839, the New York Board of Fire Underwriters reorganized the group as the New York Fire Patrol, a paid salvage company serving lower Manhattan. Its charter said that companies insuring property in New York City had to pay the board an annual tax, which went toward paying employees.
As U.S. cities were growing in the 1800s, underwriters created firefighting services for the sake of reducing losses. Members of those forces were tasked with discovering fires and preventing losses at insured companies in the city.
The New York Fire Patrol was officially chartered in 1867, according to the New York City Fire Museum, two years after the FDNY was chartered. So from that time forward, the patrol members' work was similar to what it had been all along – protecting and preserving property and life during and after fires – but now they were legally allowed to serve outside of lower Manhattan. The NYFP began to extinguish fires and conduct salvage operations throughout New York City.
Patrolmen used horse-drawn wagons to carry their supplies, which now included brooms, buckets and covers, or tarpaulins, to protect property from fire.
Fire Patrol No. 5 was established in 1892 at 307 W. 121st Street in Harlem. This station had an especially beloved mascot, a Newfoundland named Nero. Technically, Nero was owned by L.C. Pentez, according to Peggy Gavan, a volunteer firefighter and history buff who posts animal tales of old New York on her website, The Hatching Cat of Gotham.
Nero was popular with neighborhood children, who taught him to run when a bell rang, and patrol members ultimately made Nero an official (canine) member. His duties included entertaining children and guarding horses while patrolmen worked on scene.
Nero's death merited a newspaper article on April 25, 1896. Captain Edgar D. Smith and six other members of Fire Patrol No. 5 served as pallbearers at a memorial service for Nero, the Sun reported.
HEYDAYS: MEDALS AND RED HELMETS
At its peak in size, approximately 400 men reported for duty at 10 stations in the city in the early 1930s. (And yes, they were all men. There were no women in the ranks.)
The FPNY was organized under the International Association of Fire Fighters as Local I-26.
Throughout the 1900s, the New York Fire Patrol continued its salvage and fire prevention efforts throughout the city, and even made valiant rescues. Captain Albert S. Johnston of Patrol 1 won an FDNY lifesaving medal three times in the early 1900s, according to the fire museum. The medal was awarded to FDNY firefighters and NYFP members.
Somewhere along the way, patrol members began to wear red helmets, which distinguished them from FDNY members.
Underwriting boards had begun to disband salvage corps in other cities after the Great Depression began. By 2005, salvage corps in U.S. cities except New York had faded away. And an independent audit raised questions about the NYFP's productivity, particularly as the firehouses did not even have computer systems.
According to a 2006 New York Sun article, the New York Fire Patrol estimated that it responded to about 10,000 calls annually, and saved $75 million worth of property on average each year. Despite these efforts, Ellen Melchionni, vice president of the New York Insurance Association, said "insurance companies that are funding this organization no longer find any value in it."
The New York Fire Patrol was shut down by the New York Board of Fire Underwriters in 2006 – but that's not where the story ends. 
FATEFUL DAYS: LODDs
Over more than 200 years, 32 members of the New York Fire Patrol gave lives in the line of duty, as board members shared with The New York Times in 2006.
One of the more well-known incidents occurred on Feb. 14, 1958, when four FPNY members and two FDNY members were killed in the Wooster Street fire. The men were struck by debris when the building's roof and multiple floors collapsed.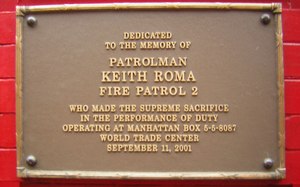 Decades later, on Sept. 11, 2001, the fire patrol suffered another loss – Patrolman Keith Roma.
Keith Roma and his father, former patrolman and retired NYPD Officer Arnold Roma, talked on the phone that day, both on their way to the Twin Towers as they burned.
The younger Roma was among the first responders who made the ultimate sacrifice at that site. As FireRescue1 detailed in "The firefighter everyone forgot about on 9/11": "By his own colleague's count, Roma personally saved the lives of over 200 people, making no less than four trips up Tower 1 in the process. At one point, he helped a barefoot woman by carrying her over the broken glass strewn lobby of the towers, ensuring she would survive the day. He was last seen alive at the FDNY command post of Tower 1. His body wouldn't be found until Christmas Eve, surrounded by nine more evacuees he was attempting to escort to safety in his last moments. He was the only member of the New York Fire Patrol that day to die."
Roma would make 344 firefighters, but he is still not counted among the losses.
HOPE FOR THE FUTURE
In 2010, the New York Fire Patrol was reincorporated as a nonprofit. The man behind the effort: Arnold Roma.
The mission was generally the same – to prevent and discover fires, and to provide property damage mitigation services – but no one from the insurance industry was on the board of directors, and the funding wasn't from insurance fees. This time, the NYFP would rely on grants from government and corporate sources.
But for the NYFP to operate, it would need a state legislative charter. At the time, Roma knew that was not an easy feat, but he expressed hope to Doug Wyllie in a Police1 article. Keith's memory, Arnie Roma said, "is what keeps me going – it's what gives me strength."
A state legislative charter still has not passed.
SPOTTING NYFP STATIONS
The most recently operational NYFP firehouses included No. 1 at 240 W. 30th St. in midtown Manhattan, No. 2 at 84 W. 3rd St. in Greenwich Village and No. 3 at 12 Dean St. in Brooklyn.
In 2010, journalist Anderson Cooper bought the 8,240-square-foot Patrol 2 building for $4.2 million. He restored it for use as a private residence. The home was used in a 2015 advertisement for H&M, and it still has original features, such as a brass firepole.
Additionally, Google street shows the façades of the Dean Street station, the 84 W. 3rd St station and the not-as-obvious 240 W. 30th St. station.